The Latest from Heather
Siren's Song Book Trailer Goes Live!
SIREN'S SONG Book Trailer went live on You Tube! Check it out here! SIREN'S SONG Book Trailer
It was so much fun to make, and Luke is AMAZING! Enjoy 😀
TANGLED HEARTS Releases 1/28!
It's finally here! TANGLED HEARTS releases world wide!
"It's a fast-paced and enjoyable read. Heather McCollum does not waste words. There are no idle scenes in the book. Even when the characters are resting, they are entertaining. Their thoughts and conversations form part of the story, building character and exploring backstory and side-plots. What this means is that there was no part of this book where I was tempted to skim. I enjoyed reading every word. McCollum also managed to impart the proper historic flavour without treading too heavily in the footsteps of the genre."
Kelly Jensen at A Step to the Side book review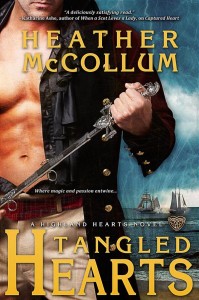 Winter Writing Festival Begins!
*permission to forward granted to all your writer friends!!*
The 4th Annual Ruby Slippered Sisterhood Winter Writing Festival is OPEN TODAY!!
 

What is it? It's a supportive process for MOVING FORWARD WITH OUR WRITING.
The Winter Writing Festival is way more flexible than NaNo. No matter what stage you're at right now (brainstorming, plotting, free-writing, fast-drafting, slow-drafting, revising, layering, polishing…or any combination of the above) the Festival will stoke your winter writing fire. We offer camaraderie, encouragement, and fabulous Writing Sprints that add rocket fuel to your progress even in the chilliest depths of winter!
The Festival is absolutely free. In fact, we give out great prizes, including a Grand Prize $250 gift card to the online merchant of your choice (hint! hint! to those heading to RWA Nationals–Marriott Hotels and all major airlines have gift cards!!) 
 
Please join us, and tell your friends!
http://www.rubyslipperedsisterhood.com/the-2014-ruby-slippered-sisterhood-winter-writing-festival-opening-ceremonies/
or visit our Festival website at http://www.rsswwf.com/
Gearing up for SURRENDER world wide Release!
SURRENDER: Book Four of The Dragonfly Chronicles will be released on all digital and paper platforms on December 20th! Follow Kailin as she struggles to control her telekinesis and the sexy treasure hunter, Jackson Black, in Victorian Era Egypt.
Siren's Song
New Website Launches
I'm so excited that my lovely new web site has been launched! Thank you Bemis Promotions for doing such a creative, professional job. You ladies ROCK!
« Previous Page