Welcome to the Castle!
THE HIGHLANDER & THE LADY OF MISRULE has released! 
A Tudor Christmastide. A brawny Highlander. A poisoned Lord of Misrule.
Greer Buchanan, a Scottish soldier for King James, arrives in London as it prepares for the festive twelve days of Christmas. Tasked by his king to stop Queen Elizabeth I from being assassinated, Greer heads to Whitehall Palace only to be misdirected to the Bear Garden where a rescue effort is underway.
Lucy Cranfield, a lady of Queen Elizabeth's court, is determined to save the weak, which includes the dogs sent into the bear fighting ring. With her family name tied to a traitor, she keeps it hidden when she enlists a Highlander to help her elude the guards during her freedom raid on the dog kennels. With two puppies in tow, she leads him to Whitehall to meet with the queen's Master of Security.
Greer discovers that Lucy belongs to a family of traitors, which moves her to number one on his potential assassin list despite her daring rescue and easy smile. When the assigned Lord of Misrule is mistakenly poisoned during the Christmas feast, Lucy is chosen to fill his vacant spot as the Lady of Misrule. With an assassin walking the corridors of Whitehall, Greer and Lucy fight the growing fire between them so they can focus on uncovering the true assassins in Queen Elizabeth's court before they strike again. Suspicion turns against them, and their passion grows into a tempest, as they run out of time to save the queen and themselves.
*********************************************************
While you're here, feel free to roam around in the "rooms". Books are in the library, recipes are in the kitchen, ovarian cancer information in the apothecary. There is a secret stairway in the bedroom, although it is password protected and available only to my monthly newsletter subscribers. 
Right now, if you subscribe to my newsletter, you can get a FREE copy of The Beast of Aros Castle! Then if you love it, you can remain subscribed to stay up-to-date on my sales, new releases, writing projects, and crazy writer life. Otherwise, you can unsubscribe at any time. 
Just click the book cover or big "Click Here" down below to sign up!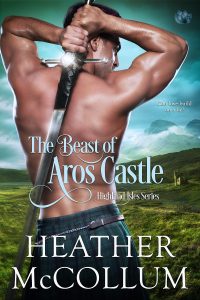 Ava Sutton is on the run from a dangerous man and makes her way safely to Scotland. Masquerading as a titled, English lady, she must convince the darkly handsome chief of the Macleans of Aros to wed her before she is tracked down.
Tor Maclean, the new chief of Aros Castle, has sworn off marriage. Despite his efforts to scare away the Englishwoman his father arranged for him to wed, Tor is nonetheless drawn to her passion and beauty. But he doesn't know if he can forgive the untruths that have come to light for a chance at a once in a lifetime love…
Hope you had a wonderful summer!!!
Heather