Entangled Trick-or-Treat Hop!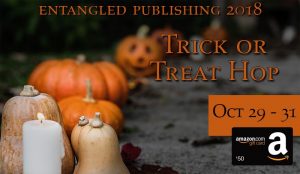 Remember to collect the candy from each Entangled Historical Author! To be entered into the grand prize drawing of a $50 gift card and a stack of books, e-mail the complete list to Riki Cleveland at riki@entangledpublishing.com with the subject line Entangled Trick-or-Treat Hop.
Feel free to hop around, but hit them all. While visiting, check out whatever goodies the authors have for you, and sign up for their newsletter or like their FB page to stay up-to-date on all their books and author activities! Happy Halloween!
"Doors" to "Knock" on:
www.harmonywilliams.com/halloween-hop 
https://www.facebook.com/jennifertretheweyromance/
https://www.heathermccollum.com/
https://www.facebook.com/TinaGabrielle/
https://www.facebook.com/TaraKingstonAuthor/
Https://facebook.com/MaddisonMichaelsAuthor
https://www.facebook.com/LianainBloom/