Ruby Slippered Sisterhood Winter Writing Festival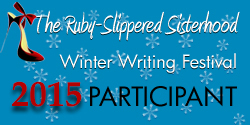 Check out the Ruby Slippered Sisterhood Winter Writing Festival! Here is the post from 1/6/15. The Festival starts 1/12/15!
*******************************************************************************************
Okay, folks, the holidays are over, and we've all had a chance to catch our breath. 
So if you're ready to buckle down for some SUPER-POWERED WRITING PROGRESS, mark your calendar for the FIFTH ANNUAL RUBY SLIPPERED SISTERHOOD WINTER WRITING FESTIVAL, which starts Monday, JANUARY 12!!!
If you've joined us for the Winter Writing Festival any time during the past four years, you know it can be a tremendously productive time, with lots of inspiring support and the magic of REGULAR WRITING SPRINTS!! (Not sure how writing sprints work? Stop back this Thursday for Kim Law's quick and easy explanation.)
It's completely free, and all writers are welcome—the more the merrier!
Through the bleakest part of winter—January 12 through March 2 this year (since February ends during a weekend)—the Winter Writing Festival will be here to keep your creative fires burning, with camaraderie, encouragement, fun prizes for participants, and as much virtual hot-chocolate and virtual cookies as you please. 'Cause nobody's Muse can resist a party!
Here's the beauty part:  unlike NaNoWriMo and other writing challenges that (much as we love them!!) have a one-size-fits-all approach, the Ruby Winter Writing Festival is designed for you.
No matter what stage you're at right now (brainstorming, plotting, free-writing, fast-drafting, slow-drafting, revising, layering, polishing…or any combination of the above) the Ruby Winter Writing Festival wants to give you fuel for your winter writing fire.
We use a flexible "point" system, with a goal of earning one point on average per day.
Everybody gets one bonus point on the first day, January 12, for stopping by the Ruby blog and making a public commitment to take part in the Festival. Then, for each of the 50 days of the Festival, including January 12, you work to earn an additional point—and YOU DEFINE WHAT IT TAKES TO EARN THAT POINT.
Here are some hypothetical examples of the sorts of things you might define as worth one point (you fill in the variables with the amounts that work for you):
-writing X number of words or pages
-deep revising Y number of pages
-polishing Z number of pages
-freewriting / brainstorming for Q number of minutes/hours
-doing R number of 20-minute writing sprints
-keeping butt in chair and hands on keyboard for S number of minutes or hours
For instance, one person might commit to earning points according to the following terms:
-writing 500 words per day  OR
-deep revising 10 pages per day OR
-doing a final polish on 25 pages per day OR
-participating in an hour of writing sprints
Any day that person meets ANY of those goals, she gets a point.
FOR THOSE OF YOU WHO CAN'T PREDICTABLY WORK *DAILY* BUT KNOW YOU CAN ACCOMPLISH A GOAL BY THE END OF A *WEEK*, we're also officially giving you permission (not that you ever needed it!) to set a weekly instead of a daily goal, and then give yourself 7 points when you make it!! (See? It's SUPER CHILL AND FLEXIBLE around here.)
You can also give yourself BONUS POINTS for auxiliary goals, like writing new words every day for seven days in a row, or reaching a certain word count by the end of a week, or writing THE END on a manuscript. Be creative with how you set up earning your points. Make them work with your personal writing style and writing needs.
If you can't meet your goal on any particular day (or week), you can certainly double or triple or quadruple your goal on another day (or week) to catch up.
And here's a real beauty part: if you know ahead of time that you can never work on certain days (say, Saturdays) feel free to add something like "Keep balance in my life by taking Saturday off" to your personal list of 'ways to earn a point.' Yes, really, you can get a point for taking a planned day off!! Don't be shy.
Remember, we all have different life commitments and different approaches to our writing lives, so we all need to set our own goals. All goals are equally worthy. This isn't a competition, it's a supportive process for MOVING FORWARD WITH OUR WRITING.
Check in on the Ruby blog every Monday during the Festival to report your progress. If you reach March 2 with 50 points or more, YOU WIN!!
Because we're the Rubies, and we like to do things up right (and…okay, because we have the awesome Liz Bemis of bemispromotions.com) we'll even have a special sister website up and running during the Festival which you can access by going to rsswwf.com or by clicking the blue "Ruby Winter Writing Festival" button which will soon appear near the top of the Ruby site.
Everyone who commits to participating on January 12 will be able to download a cool "Ruby Winter Writing Festival Participant" badge (similar to what's at the top of this post) to post on their own website or blog.
Plus, everyone who checks in on a Monday reporting that they're on track with earning points will be entered in random drawings for cool prizes, like gift cards, Ruby books, and expert critiques from the Sisters!
If you check in on Monday, March 2 and report you've WON, you'll be able to download a "Ruby Winter Writing Festival WINNER" badge to post on your website or blog.
And of course you'll have the satisfaction of achieving a small boatload of wonderful shiny writing progress (not to mention eternal fame and glory…and cookies!).
What's not to love?
Decide on your personal terms for earning points, and join us back here on Monday January 12 to get started!! And spread the word on your loops, Facebook, and personal websites! The more writers who join us, the stronger we'll all be!