Treat!
Posted Oct 27 2016, 11:45 am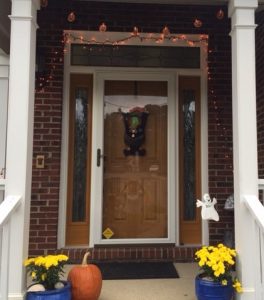 Each October I go a little Pumpkin Crazy. One of the things I make from scratch is Pumpkin Butter. There is no butter in Pumpkin Butter. It is like Apple Butter, which is like spreadable apple sauce. When I make a batch and give it out, I always get requests for more. So here is my recipe. It's really not too hard, and people are fairly impressed that it comes from real pumpkins!
I don't just use it for spreading on toast. I add it to oatmeal as a pumpkin flavored sweetener and to pancake batter for instant Pumpkin Pancakes. Try it out. You'll love it!
Ingredients: 
2 Pie Pumpkins or cans to make 3 cups puree (tastier than carving pumpkins, look in your grocery store)
3 cups brown sugar
1/2 small lemon
1/2 tsp cinnamon (or more if you like it very cinnamony)
1/4 tsp pumpkin pie spice
Now Let's Do This: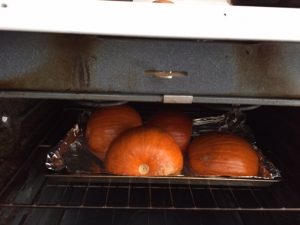 1. Wash pumpkins, carefully cut stem off and cut in half. Scoop out seeds and scrape out threads. Save seeds to roast later. 
2. Place on sprayed baking pan or cookie sheet, cut side down. Bake at 350 degrees until fork pokes through easily (about 40 minuets depending on size of pumpkins)
3. Let cool to touch and scoop out soft pumpkin. You can puree it now or after it's been in crock pot.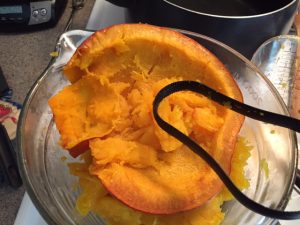 4. Place in crock pot, add all other ingredients and cook on LOW for 2 hours, stirring occasionally to make sure it's not sticking to sides.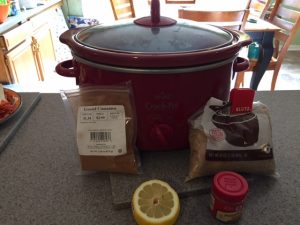 5. Use immersion blender or potato masher to make the butter smooth.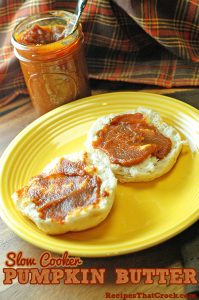 6. Place portions into clean jars or freezer bags. 
7. Keep refrigerated or frozen. Canning is not recommended. 
Use willy nilly on everything that could use some sweet pumpkin flavor! 
14 Comments
Comments
14 responses to "Treat!"