Congratulations to Donna, Ramie and Xandra for winning prizes in the giveaway to celebrate the release of BROKEN! Thanks to all of you who entered, tweeted and posted about the giveaway and my newest book baby : ) I appreciate it so very much!
If you would like to receive a free digital copy of BROKEN in return for an honest review, please e-mail me at Heather@HeatherMcCollum.com and I'll hook you up! This offer will only extend through April, so e-mail me ASAP.
Your reviews help readers find my books, so your opinions are extremely important. Thanks and have a fabulous, butterfly-kisses kind of day!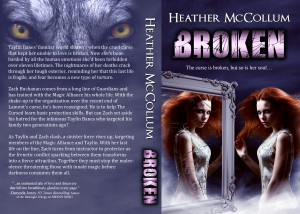 Welcome to my web site where adventure, magic, and romance wrap together into wonderfully layered stories! I believe in the fabled happily-ever-after and love to share with you the larger-than-life characters running around in my head and my heart.
Meet the strong dragonfly sisters in The Dragonfly Chronicles books, each hidden apart within different centuries, each with a unique magical ability. Or discover the herbal lore and healing magic found in the Highland Hearts series of rugged Scottish warriors and their clever, courageous women.  And for something quite different, see how one girl's gift of white magic stands up against dark vengeance in my first Young Adult paranormal romance, SIREN'S SONG, which released March 25th (The sequel, BROKEN, will release April 2015).
Whether you found me by accident or sought me out, I'm so glad you stopped by. And remember – if we read enough happy endings, one is bound to come our way!
Have a find-a-four-leaf-clover kind of day!
Heather