Welcome
September is Ovarian Cancer Awareness Month! 
Since this cause became near and dear to my heart when I was diagnosed 5 years ago, I am raising money for women's OC education this month!  100% of my royalties from the Highland Hearts series for the month of September are going to OC education! If you are interested in trying out a new Scottish Historical series, with powerful women healers, try out the Highland Hearts series, and help me spread the word about this terrible disease. Know the symptoms. Save a life.
Bloating, Eating Less & Feeling Full Fast, Pelvic Pain, Urinary Issues – these are the main symptoms.
Other symptoms may include back pain, constipation, indigestion, fatigue, pain during intercourse, and menstrual issues. If you experience any of these symptoms every day for for 3 weeks or more, please see your GYN.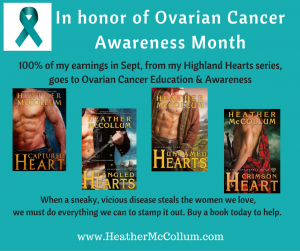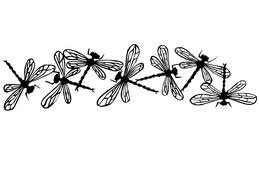 Welcome to my web site where adventure, magic, and romance wrap together into wonderfully layered stories! I believe in the fabled happily-ever-after and love to share with you the larger-than-life characters running around in my head and my heart.
Meet the strong dragonfly sisters in The Dragonfly Chronicles books, each hidden apart within different centuries, each with a unique magical ability. Or discover the herbal lore and healing magic found in the Highland Hearts series of rugged Scottish warriors and their clever, courageous women.  And for something quite different, see how one girl's gift of white magic stands up against dark vengeance in my  Young Adult paranormal romance, SIREN'S SONG. The sequel, BROKEN, released in April 2015!
Whether you found me by accident or sought me out, I'm so glad you stopped by. And remember – if we read enough happy endings, one is bound to come our way!
Have a breezes-filled-with-honeysuckle-sweetness kind of day!
Heather