Oreo Cookie Macarons
Thank you all for hopping and for loving love stories!
Congratulations to Lori R. for winning the grand prize $150 gift card! And to Carole for winning my individual prize!
I hope you all had fun, found some delicious recipes, learned some festive tidbits about the past, and found some new-to-you historical romance authors.
Be on the lookout for my annual Easter egg hunt hop in the spring!
May your holidays be bright and your hearths be warm
Heather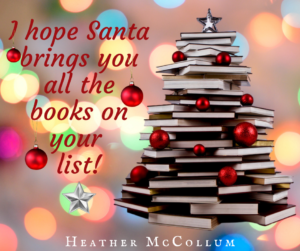 ******************************************************************************************
Welcome to my stop on my annual Historical Romance Holiday Cookie Exchange/Hop!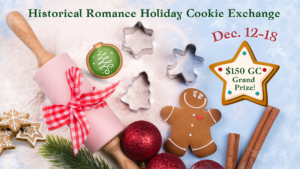 I created my Oreo Cookie Macaron recipe from three different recipes for macarons. I think it came out pretty yummy. Don't be intimidated by all the steps. They aren't really hard, but give yourself time. Macarons can be persnickety sometimes, so if they don't turn out exactly how you'd like, I bet they are still delicious. Make sure to dry them out before baking to get the signature "foot" on the bottom of each cookie.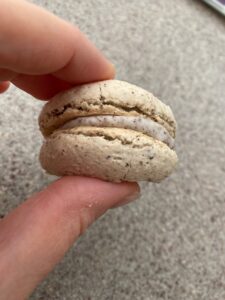 Did I mention they are gluten free?!
Since the ingredients must be measured correctly, you really need a kitchen scale to get them exact. You can order one on Amazon for under $9 for a basic scale: Basic Kitchen Scale on Amazon
Scroll below the recipe to find out about a mostly forgotten Christmas game! Have you ever played Snapdragon? It's a bit spooky too!
Feel free to explore the rest of McCollum Castle (my website) and sign up for my once-a-month e-mail to stay up to date on my books, sales, and crazy writer's life. Heather's Kilt Chasers Newsletter Sign Up
And lastly, keep hopping to the next historical romance author on the Author Link List: FB Event Page
Once you have all the authors with their chosen cookies/treats, e-mail the completed list to Heather@HeatherMcCollum.com to be entered into the giveaway. Happy Holidays!
Oreo Cookie Macarons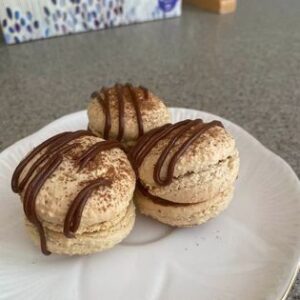 Ingredients:
Macaron Cookie
100 grams egg whites (3-4 eggs)
100 grams granulated white sugar
100 grams almond flour
100 grams powdered sugar
10 grams finely crushed Oreos (weigh after sifting)
Filling – Oreo Cream Cheese Buttercream
8 oz cream cheese softened
7 Tbsp unsalted butter softened
3 cups powdered sugar
1 tsp vanilla
8-10 Oreo cookies crushed
Directions (Don't be intimidated by the large number of steps. You can do it!)
Get ingredients together, and prepare large piping bag fitted with round tip.
Line two baking sheets with parchment paper or silicone mats.
Measure out ingredients.
Sift powdered sugar and almond flour together. Set aside.
Place egg whites and granulated sugar in a clean (wipe with vinegar if worried it has remnants of oil) heat proof bowl or in a double boiler. Over a pan of simmering water, whisk the whites and granulated sugar until frothy and sugar is completely melted. It will take a couple minutes. You can test it by rubbing a bit of the mixture between your fingers, and if you feel the gritty sugar granules, keep whisking the mixture over the water bath. Make sure the bottom of the bowl isn't touching the simmering water.
Don't overheat the sugar syrup or it makes wrinkly macarons.
Transfer mixture to the bowl of a stand mixer.
Whisk on low for 30 seconds, then gradually start increasing speed to medium. Mix on medium for one to two minutes, until mixture is white and becoming fluffy.
Raise speed to high for a few minutes until stiff peaks are formed. Keep your eyes on the mixture.
Once the whites get glossy and they start to leave streaks formed by the whisk, it might be time to stop. Lift the whisk up to see if the peak stays up. If it bends to the side, it needs more time whipping.
Pour sifted powdered sugar and almond flour into stiff whites. Start folding gently forming a letter "J" with a spatula.
Add the food coloring at this stage if using. It's time to stop folding when the batter is glossy and has a thick and flowing consistency. If too thick, fold 3-4 times and try again. Do not overmix.
Once the batter spreads out a bit and starts to look glossy and smooth on top, transfer to the piping bag.
Pipe onto the template, making a circular cookie. Use a dab of water on your fingertip to smooth the points on the cookie batter.
Bang the trays against the counter several times. If there are bubbles in the batter, use a toothpick to pop them.
Let the macaron trays sit for 30-40 minutes to dry out. Humid days may take longer.
Preheat oven to 325 degrees F. Bake dried macarons 18 minutes. Bake one tray at a time.
Cool on rack before removing from pan.
Make Oreo cream cheese buttercream by:
Put softened cream cheese and butter into the stand mixer and use a paddle attachment to whip. Add crushed cookies, vanilla, and powdered sugar. Whip with paddle attachment until smooth.
When cookies are cool, pipe buttercream onto one and place a second to make the sandwich. You can drizzle melted chocolate on them if you'd like.
Enjoy and appreciate not having to pay $5 per cookie!

Snapdragon Game
Snapdragon or "Flap-dragon" has been played since at least the 16th century. Shakespeare mentions the fire-snatching game in his writings. A shallow basin is filled with almonds and raisins, then set on fire with brandy. If they dare, people take turns sticking their hands through the blue flames to snatch a nut or fruit. Without getting burned!
Dr. Jack Cohen. Cohen, retired U.S. Forest Service fire scientist said "The blue flame that makes snapdragon looks so cool, he says, is the result of chemiluminescence, not thermal radiation. Chemiluminescence produces light, but not much heat. If you were to compare snapdragon's blue flame to a yellow candle flame, he says, the candle is burning twice as hot. After all, brandy is often only around 50 percent alcohol, meaning it won't burn as hot as something higher-proof.
While I'm not recommending that you play with fire in your own home, here's how the Gastro Obscura team played snapdragon. I think I'm trying it this year!
½ cup raisins
½ cup almonds
¾ cup, plus ¼ cup of around 50 percent alcohol, such as brandy or rum
Salt
1. Take a large, flat plate, and sprinkle the raisins and almonds on top, making sure to space them out.
2. Pick where you'll play the game. A dim-to-dark room or outside at night is best for seeing the blue flames. Make sure wherever you set the plate is free of any tablecloth or flammable materials.
3. Pour the ¾ cup of alcohol onto the plate. Add more if the bottom of the plate is not thoroughly covered. Then, heat the other ¼ cup in a pot on the stove until it sizzles and steams. (Cohen says this volatilizes the alcohol, increasing the amount of vapor and making it easier to set alight.) Carefully pour the hot liquor into a mug or a bowl, making sure not to burn yourself.
4. Gather a large spoon, matches or a lighter, the mug, and the salt. When ready to start playing, pour the liquor into the large spoon and set it alight. Then, carefully tip the flaming liquor onto the plate, letting it light the rest of the alcohol. It may not take right away. Reheat more alcohol and try again if it doesn't work the first time.
5. Once the blue flames are leaping, players can reach for the raisins and almonds. Pinches of salt will make the fire briefly burn yellow and flare. Take care, since the plate will gradually heat up. To refresh the flames, carefully stir the mix with the spoon, or add more alcohol. Eat what you pull from the fire.
To thank you for reading down this long post, I'm picking one person to win a $10 gift card! Just sign up below. Happy Holidays! (P.S. – don't forget to go back to the Link List for the next hop: Author Link List on FB