The Latest from Heather
Tudor Con 2021
October 1-3, 2021
Manheim, PA
Pictures from this fun conference!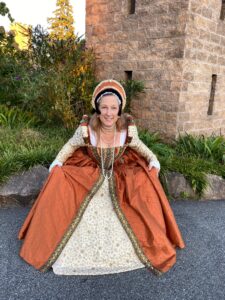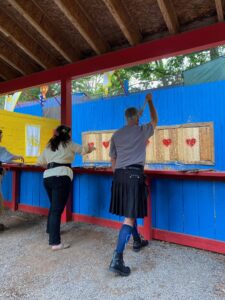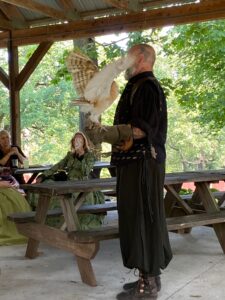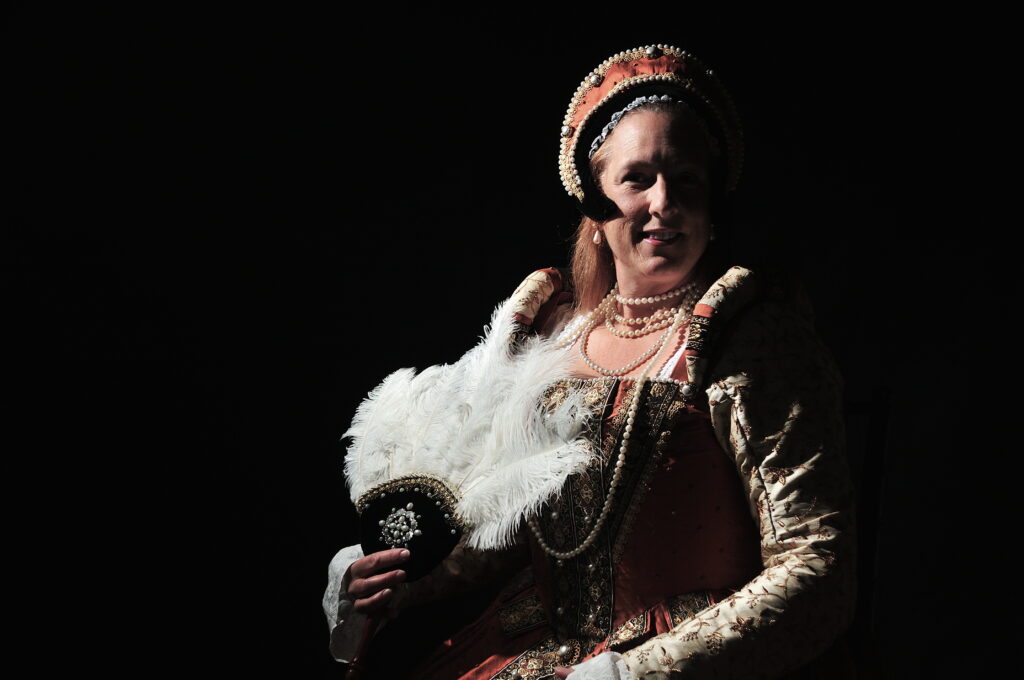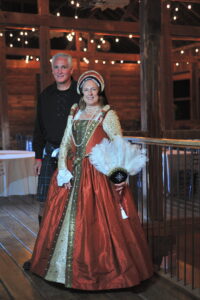 Staying Home
During this time of Covid, I am staying home as much as possible. Trips to the grocery store and post office have become my "getting out." My husband and I masked up and went to Walmart to buy my latest book. It was a bit unnerving, but it was a thrill to see Highland Conquest on the shelves!
Stay safe, everyone! Heather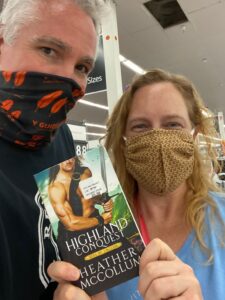 A New Highland Romance Series!
The first book in my new Highland Roses School series, A ROSE IN THE HIGHLANDS, released on September, 24 2018! Readers and I celebrated with a fabulous Release Tea Party with nine other authors. We even had a surprise visit from Queen Catherine de Braganza, the Portuguese princess who married English King Charles II in the mid 1600's and brought tea to England.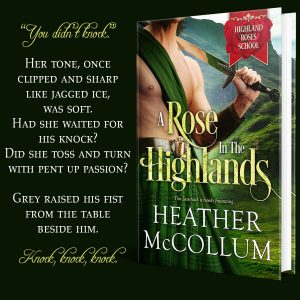 Queen Catherine will appear in Book #2, A PROTECTOR IN THE HIGHLANDS (previously titled A Rose with Thorns), which will be released in December 2018, in time for a mini-vacation to the rolling Highland hills during the hectic holiday season.
I'm very excited about this series, because it ultimately has to do with empowering women in a time when they had very little power.
At the Highland Roses School, in the politically rebellious 1680s, ladies learn the crucial skills of reading, writing, pouring a proper tea and killing an attacker with a hair spike in ten seconds. At a time when ladies have few rights, Evelyn and Scarlet Worthington, along with the brawny Highlanders who fall in love with them, run a school for ladies to teach them all the skills needed to stay elegant, educated and alive.
Privacy Policy
This privacy policy describes how I, Heather McCollum, use and protect any information you give when you use this website.
I am committed to ensuring your privacy is protected. Should I ask you to provide certain information by which you can be identified when using this website, you can be assured it will only be used in accordance with this privacy statement.
I may change this policy by updating this page, but have no current plans to do so. This policy is effective as of May 18, 2018.
What I collect
I may collect the following information:
First and last name
Email address
Shipping address for prizes
What I do with the information I gather
At this time, information is only collected for:
Subscription to the Heather McCollum newsletter, so you can receive updates on new book releases, sales, my writing projects and other relevant information, or for contacting Heather McCollum on the contact page. You may unsubscribe from my newsletter at any time.
Mailing prizes or book release postcards to you.
How data is kept secure
Personal information is contained behind secured networks by the WordPress and Spark Creative Partners service providers.
In the event that a breach occurs, every effort will be made to notify you via email within seven business days.
Retention of personal data
I will use and store your personal data only for as long as necessary to provide the services you requested and to ensure your future requests are met efficiently.
How I use cookies
A cookie is a small file that a site transfers to your computer's hard drive through your Web browser. The cookie files help the site analyze web traffic or lets you know when you visit a particular site. Cookies allow web applications to respond to you as an individual. The web application can tailor its operations to your needs, likes, and dislikes by gathering and remembering information about your preferences.
This website uses traffic log cookies to identify which pages are being used. This helps me analyse data about webpage traffic and improve this website in order to tailor it to customer needs. I only use this information for statistical analysis purposes.
Overall, cookies help me provide you with a better website by enabling me to monitor which pages you find useful and which you do not. A cookie in no way gives me access to your computer or any information about you, other than the data you choose to share with me.
You can choose to accept or decline cookies. Most web browsers automatically accept cookies, but you can usually modify your browser setting to decline cookies if you prefer.
Children
This website and my newsletter are aimed at adults. I do not knowingly collect any personal data relating to children under 18 years old. If you are under the age of 18, please do not provide any of your personal data, including your email address.
Links to other websites
This website may contain links to other websites of interest. However, once you have used these links to leave this site, you should note that I do not have any control over that other website. Therefore, I cannot be responsible for the protection and privacy of any information which you provide while visiting such sites, and such sites are not governed by this privacy statement. You should exercise caution and look at the privacy statement applicable to the website in question.
Controlling your personal information
I will not sell, distribute, or lease your personal information to third parties unless I am required by law to do so.
You can unsubscribe from my newsletter by clicking the unsubscribe button at the bottom of any of my newsletters you have received or by emailing me using the contact information located at the end of this privacy policy.
You may also e-mail me to remove your mailing address from my postcard distribution list at any time.
Also, at any time, you can email me to:
see what personal data I hold about you (if any), ask me to change/correct your personal data, ask me to delete your personal data, or express any concerns you have about third parties' use of your personal data.
Contact Me:
If there are any questions regarding this privacy policy, you may contact me using the information below.
Heather@HeatherMcCollum.com
Heather McCollum
P.O. Box 1712
Apex, NC 27523
Siren's Song Wins Readers' Crown!
I'm thrilled to announce that SIREN'S SONG: Book One of the Guardians' Series Won the 2015 Rom Con Readers' Crown in YA Romance! Woot! I'm floating on my happy bubble.
Thank you to all my fabulous readers! You really make writing thousands and thousands of words so much more fun!
Untamed Hearts
A Highland Hearts long novella that follows TANGLED HEARTS – released 4/21/14!
Will Wyatt has always played the part of pirate, but now he's a fish out of water in the Highlands of Scotland. With a bounty on his head, he's laying low by helping his sister and a troop of abandoned children journey to a new home. He didn't count on a spunky Highland lass stealing his breath after he steals a kiss.
Jonet Montgomery has longed for a chivalrous knight her whole young life. Instead she found herself wed to a cheating scoundrel and left a widow. Giving up on love, Jonet turned to helping the orphaned children of her clan, but when a lusty, silver-tongued rogue opens a crack in Jonet's routine life, she's tempted by his offer to taste adventure of the most pleasurable kind.
Will's heart of gold shines through despite his infamous past, making Jonet risk her reputation once again. But can she possibly be enough woman to keep this sexy pirate from straying? With her past embarrassment haunting her, she risks more than just her reputation this time. She risks her heart.
Siren's Song Releases!
Woot! I'm thrilled to announce the release of my first Young Adult Paranormal Romance, Siren's Song! Luke just captured my heart when I started writing him through Jule's eyes. Now I am writing the sequel, Awakening, which is Taylin's story. I hope you thoroughly enjoy them both!
Siren's Song Book Trailer Goes Live!
SIREN'S SONG Book Trailer went live on You Tube! Check it out here! SIREN'S SONG Book Trailer
It was so much fun to make, and Luke is AMAZING! Enjoy 😀
Siren's Song