Kitchen
Welcome to the Kitchen in McCollum Castle! Where the world is warm and smells of baking holiday cookies! Today I'm happy to share my award winning Oreo Ball cookie recipe with you. It has won my neighborhood cookie exchange contest for the last six years! These balls are pretty, delicious, and use very few ingredients. 
Oreo Balls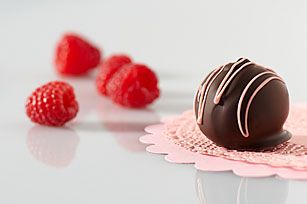 Ingredients:
1 Package of Oreos,
8 oz brick of cream cheese (I add a little more for extra creaminess)
Chocolate to melt (I used semi-sweet chocolate chips melted in a cast iron pot on LOW)
White chocolate to decorate
Instructions:
Crush Oreos

Soften cream cheese and mush together with crushed Oreos (I wear disposable gloves)

Make Oreo "meatballs" and refrigerate for 10 minutes

Dip "meatballs" in melted chocolate and refrigerate

Melt white chocolate and drizzle over top
Tips:
Small balls are better than large. They cover easier and look prettier. 
Put the balls into the refrigerator while you melt the chocolate for dipping. The balls dip cleaner when they are cold. Also refrigerate after they are dipped while you melt the white chocolate for decorating. Store in the refrigerator.
Place on a pretty plate interspersed with red sour cherry candies for a burst of color or put them into miniature muffin papers for a nice presentation.
Take your time. When I rush, they don't turn out. And don't get any water in the melting chocolate.
Also:
While you are visiting McCollum Castle, please scroll below to sign up for my Newsletter to stay up to date on my new releases and author wanderings. Then hop on over to the next author's cookie recipe. Collect them all for a chance to win 32 e-books and a $160 gift card! 
I am also giving away a prize on this site! After all, it's the season for gifts!
Holiday Cookie Exchange Hop Links
After you have visited each site to collect the cookie recipes, e-mail the list of authors and their cookies to Heather@HeatherMcCollum.com with the subject line "Romance Authors Sure Can Bake" to be entered into the grand prize drawing. A winner will be selected randomly and announced Monday, 17 December by noon ET. Happy Holidays!