Crumbly Chocolate Fudge Pecan Bars
These fuggy crumbly bars are my husband's favorite Christmas cookie!
Ingredients:
1 cup (2 sticks) unsalted butter, softened
2 cups all-purpose flour
½ cup granulated sugar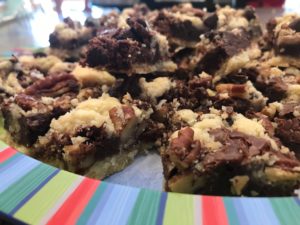 ¼ tsp salt
2 cups (12 oz package) semi-sweet chocolate chips, divided
1 ¼ cups (14 oz can) sweetened condensed milk
1 tsp vanilla extract
1 cup chopped pecans
Directions:
Preheat oven to 350 degree F & grease a 13X9 inch bar pan.
Beat butter in large bowl until creamy.
Beat in flour, sugar, & salt until crumbly.
With floured fingers, press 2 cups of crumb mixture in bottom of pan, reserving the rest.
Bake 10-12 minutes until edges are golden brown.
Meanwhile, warm 1 ½ cups chocolate chips (which leaves ½ cup) & sweetened condensed milk in a heavy saucepan over low heat, stirring until melted and smooth. Stir in vanilla. Spread over hot crust.
Stir pecans into reserved crumb mixture & sprinkle over the melted chocolate.
Bake for 25-30 minutes or until set in the middle. Cool and cut into bars. Enjoy!