Welcome
Thank you for stopping into McCollum Castle!
While you are visiting, feel free to explore the different "rooms" to find historical tidbits and fun recipes. My books, with links, are shelved in the library. And to stay up-to-date on my book releases, author  adventures, and real-life ponderings, please subscribe to my newsletter (form below). 
I am thrilled to announce the release of the first book in my new SONS OF SINCLAIR series, HIGHLAND CONQUEST! It can be found on the shelves at Walmart and some grocery stores. When Barnes & Noble opens back up, it should be there as well. And as always, it can be ordered online in print or e-book. Link to Order Your Copy through Entangled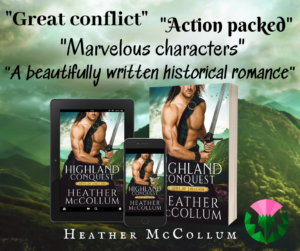 Cain Sinclair has a plan. In order to finally bring peace to his clan, he will wed the young female chief of their greatest enemy. Only problem: capturing her and forcing her back to Sinclair castle doesn't exactly make her want to say yes. Ella Sutherland may be clever, passionate, and shockingly beautiful, but what she isn't is willing.
Every attempt Cain makes to woo her seems to backfire on him. A gift? The kitten practically claws his eyes out. A competitive game of chess? Even when he wins, he loses. It seems the only time the two ever see eye to eye is when they're heating up Cain's bed. Still, the only thing Ella truly wants is the one thing he cannot offer her: freedom.
But when Cain discovers she's been harboring a secret—one that could threaten both clans' very existence—he'll have to decide between peace for the Sinclairs or the woman who's captured his heart.

I am working on book #2 in the series: Highland Warrior. Even though it won't be out until next year, take a look at this brawny cover!
Have  a lovely spring, and please stay safe!
Heather