Welcome to
McCollum Castle!
I am Heather McCollum, USA Today Bestselling author of 16th and 17th century Scottish romances full of adventure and intrigue, sprinkled with humor, history, and spice. Brawny Highlanders and feisty heroines are my favorite characters!
While you're here, feel free to roam around in the "rooms". Books are in the library, recipes are in the kitchen, ovarian cancer information in the apothecary. There is a secret stairway in the bedroom, although it is password protected and available only to my monthly newsletter subscribers. And now I have a Fun for Readers page! Try out some games and see the adventures with my Highland coo, Flora.
And you might be wondering about Eleri Drake. Who exactly is this author with the lovely name and magic room in my castle? Check her out!
If you have questions, comments, or just want to chat, I love to hear from readers through my Contact form.
With the holidays coming up, life is full of the rush of sparkly, sometime frenetic fun. I hope you can take a moment to sip a warm drink and relax, perhaps with a wonderful book. 
Coming up December 9-12 is my annual Historical Romance Authors Holiday Cookie Exchange Hop! I hope you can hop along, collecting recipes and having fun entering the author individual giveaways. Then you can enter the $150 gift card grand prize giveaway!
More info to come, but mark your calendar!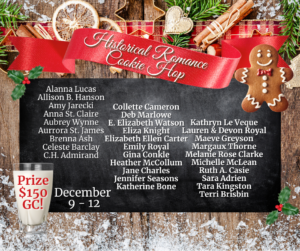 Wishing you a fabulous, peace-filled holiday season! Heather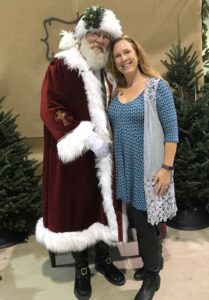 If you subscribe to my newsletter, you can get a FREE copy of The Beast of Aros Castle! Then if you love it, you can remain subscribed to stay up-to-date on my sales, new releases, writing projects, and crazy writer life. Otherwise, you can unsubscribe at any time. 
Ava Sutton is on the run from a dangerous man and makes her way safely to Scotland. Masquerading as a titled, English lady, she must convince the darkly handsome chief of the Macleans of Aros to wed her before she is tracked down.

Tor Maclean, the new chief of Aros Castle, has sworn off marriage. Despite his efforts to scare away the Englishwoman his father arranged for him to wed, Tor is nonetheless drawn to her passion and beauty. But he doesn't know if he can forgive the untruths that have come to light for a chance at a once in a lifetime love…

Enjoy!

Heather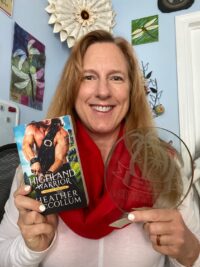 I'm so excited to win the National Excellence for Romance Fiction Award for HIGHLAND WARRIOR!
Reviews
This book is definitely one to put on the shelf keeper and to read again. It's has all the elements that historical readers love from weaving true historical facts with an extraordinary fictional romance.
— Barbee, Goodreads, about Highland Warrior
I can't get enough of Heather McCollum. I have read most of her novels and fall in love every time. Highland Conquest was no exception!
— Julie D., NetGalley
Smexxy highlanders, a feisty heroine, a cursed isle, an alleged witch and pirates! From start to finish The Highlander's Unexpected Proposal is a book impossible to put down! Highly recommend!
— Veronica W., Goodreads
Heather McCollum expertly combines her historical knowledge with romance and many surprises in this wonderful tale of two people who come together in an unexpected way. Adventure, action and hidden secrets all make this story a page turning romance you will not want to miss. Who can resist a Scottish Highlander? A wonderful start to a new series!
— Romance Book Blog
I was hooked from the start of this fabulous story and I could not stop turning the pages. Unputdownable!
— Ann L., Goodreads, about The Scottish Rogue
This story was action packed with daggers and swords, secrets and lies and some twist and turns thrown in.
— Michelle V., Goodreads, about The Highland Outlaw
Highland Conquest by author Heather McCollum is a read that grabs your attention with the many marvelous characters therein. A fabulous beginning in the Son's of Sinclair series by Ms. McCollum!
— Talking Books Blog
Two strong, clever heads of opposing clans are the perfect match on and off the battlefield in Highland Conquest . Heather McCollum has kicked off her Sons of Sinclair with an engaging enemies-to-lovers tale.
— Wit and Sin Blog
Gosh, how I loved this book. It had everything that makes a fantastic historical romance.
— Swept Away by Romance blog, about Tangled Hearts
Crimson Heart marks the first time I've read a book in a series without having read the ones that came before – but kilts and magic? Then adding in the bonus of a historical bent? Come on. It's a complete home-run, book wise. For me, anyway.
— All Things Urban Fantasy
5 Stars: There is SO much to love about this book!… It's passionate and steamy and I loved every passage and word. Tor is a magnificent lover and with Ava, they literally set the pages on fire.
— Kilts and Swords, about The Beast of Aros Castle
5 Stars: The Rogue Of Islay is one of those books where you want to shut out the world, curl up under a blanket and just read! Heather McCollum transported me back to 16th Century Scotland, and for a while, I was more than happy to stay there!
— Mary's Bookcase
5+ Stars!! What a great book!! I enjoyed this story!! If I could, I'd give it MORE stars! (Iloved it that much!) I was very entertained by this story- I couldn't put it down!! Now I want a Cullen Duffie of my very own!
— Carey,Goodreads.com, about The Rogue of Islay Isle
The Wolf of Kisimul Castle was a delight to read. It was heartwarming, had me laughing and crying. This book is a must read!
— USA Today bestselling author, Madeline Marin
This was a very romantic story that had everything it needed to keep me captivated. The characters were amazing and the plot was emotional. It even had a couple of twists and some suspense. The author delivered a wonderfully written romance that has me looking forward to more of her books."
— Debra, Night Owl Reviews, about The Wolf of Kisimul Castle
Heather McCollum has become my one click must read for highland romance and adventure! Cain Sinclair is a fierce warrior and compassionate lover, and I've totally added him to my book boyfriend list! Loved and highly recommend!
— Veronica W., Goodreads
Two strong, clever heads of opposing clans are the perfect match on and off the battlefield in Highland Conquest. Heather McCollum has kicked off her Sons of Sinclair with an engaging enemies-to-lovers tale.
— Wit and Sin Blog