Welcome to the Castle!
Releasing 5/19/22! 
A brand new series set in Elizabethan London! THE QUEEN'S HIGHLANDERS
Book #1: THE HIGHLANDER AND THE QUEEN'S SACRIFICE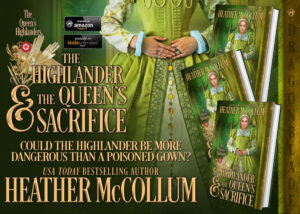 Kerr Gordon, next in line to be chief of the Gordon Clan, is tasked by Mary, Queen of Scots to bring to bring a gift to her cousin—and jailer—Queen Elizabeth of England. When he arrives at Whitehall Palace to find a courtly woman tied up in the stables, he acts to save her, only to be rebuked for dispatching an assassin before she could hear his confession.
Queen Elizabeth calls Maggie Darby her sacrificial lamb: Maggie's job is to try on all of the queen's gowns and accessories before she wears them—just in case they're poisoned. Trained by her father, Maggie has no intention of dying in the line of duty. She's learned all about poisons and how to test for them.
When the handsome Highland warrior who saved her in the stables is accused of treason, Maggie's instincts tell her that he's been framed. As they work together to find the true traitors in Queen Elizabeth's court, the smoldering fire that's been growing between them erupts into an inferno that threatens to change their worlds forever.
*********************************************************
While you're here, feel free to roam around in the "rooms". Books are in the library, recipes are in the kitchen, ovarian cancer information in the apothecary. There is a secret stairway in the bedroom, although it is password protected and available only to my monthly newsletter subscribers. 
Right now, if you subscribe to my newsletter, you can get a FREE copy of The Beast of Aros Castle! Then if you love it, you can remain subscribed to stay up-to-date on my sales, new releases, writing projects, and crazy writer life. Otherwise, you can unsubscribe at any time. 
Just click the book cover or big "Click Here" down below to sign up!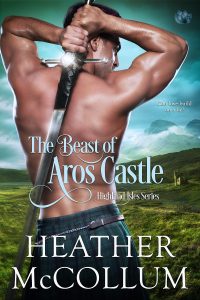 Ava Sutton is on the run from a dangerous man and makes her way safely to Scotland. Masquerading as a titled, English lady, she must convince the darkly handsome chief of the Macleans of Aros to wed her before she is tracked down.
Tor Maclean, the new chief of Aros Castle, has sworn off marriage. Despite his efforts to scare away the Englishwoman his father arranged for him to wed, Tor is nonetheless drawn to her passion and beauty. But he doesn't know if he can forgive the untruths that have come to light for a chance at a once in a lifetime love…
Have a splendid day!!!
Heather