Welcome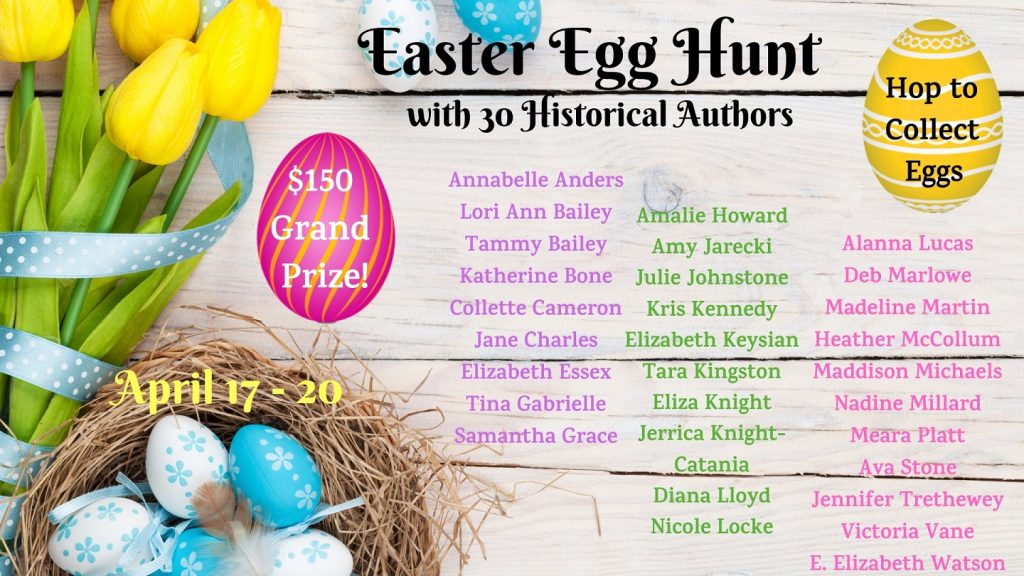 Coming Soon! Historical Author Easter Egg Hunt! April 17-20
Brightly colored eggs, fun hopping, and a chance to win a $150 gift card!
Historical Author Easter Egg Hunt
Start with the Egg Match sheet by clicking here: Egg Match Form
Match the egg to the author by 1) drawing a line between them, or 2) writing the author's name next to their egg, or 3) writing the number of the egg next to the author's name. When you have all 30 matches, either e-mail a picture of the form (2 pictures since there's 2 pages) or send an e-mail with the author's name list with their matching egg number.
E-mail to Heather@HeatherMcCollum.com by 11:59 PM ET on 4/20/19 to be entered into the $150 gift card giveaway! Grand prize winner will be announced by noon on Easter (4/21/19).
While you are hopping to collect eggs, don't forget to like, follow, or sign up for the author's newsletter to keep up to date on their new releases and author wanderings. Here's the list of links so you can keep hopping!
2019 Easter Egg Hunt Hop – 30 Historical Romance Authors
Annabelle Anders https://www.facebook.com/HappyWritingGirl/ 
Lori Ann Bailey http://loriannbailey.com/books/highlander-series/
Tammy L. Bailey https://www.tammylbailey.com/
Katherine Bone http://www.katherinebone.com/
Collette Cameron http://facebook.com/collettecameronauthor
Jane Charles https://www.janecharlesauthor.com/
Elizabeth Essex https://www.facebook.com/elizabeth.essex.37/
Tina Gabrielle https://www.facebook.com/TinaGabrielle
Samantha Grace https://www.samanthagraceauthor.com/
Amalie Howard http://www.amaliehoward.com
Amy Jarecki https://www.facebook.com/amyjarecki/
Julie Johnstone http://juliejohnstoneauthor.com/special-offer
Kris Kennedy https://www.kriskennedy.net/excerpts-eggs/
Elizabeth Keysian https://elizabethkeysian.com/
Tara Kingston https://www.facebook.com/TaraKingstonAuthor/
Eliza Knight http://www.eknightauthor.com/
Jerrica Knight-Cantania http://www.jerricasplace.com/shakespeares-daughters.html
Diana Lloyd https://diana-lloyd.com/
Nicole Locke https://www.nicolelocke.com/
Alanna Lucas https://www.facebook.com/AuthorAlannaLucas/
Deb Marlowe http://www.debmarlowe.com/deb-marlowes-regency-kitchen.html
Madeline Martin http://www.madelinemartin.com/blog/
Heather McCollum https://www.heathermccollum.com/
Maddison Michaels https://www.facebook.com/MaddisonMichaelsAuthor/
Nadine Millard https://partners.bookbub.com/authors/82544/edi
Meara Platt https://facebook.com/AuthorMearaPlatt/
Ava Stone https://www.avastoneauthor.com/family-trees
Jennifer Trethewey https://www.facebook.com/jennifertretheweyromance/
Victoria Vane https://www.victoriavane.com/blog
Elizabeth Watson https://www.facebook.com/Author.E.Elizabeth.Watson/
Thank you for stopping in! 
Feel free to explore the different rooms in McCollum Castle to find historical tidbits and fun recipes. My books, with links, are shelved in the library. And to stay up-to-date on all my releases and author adventures, please subscribe to my newsletter (form below). 
Also…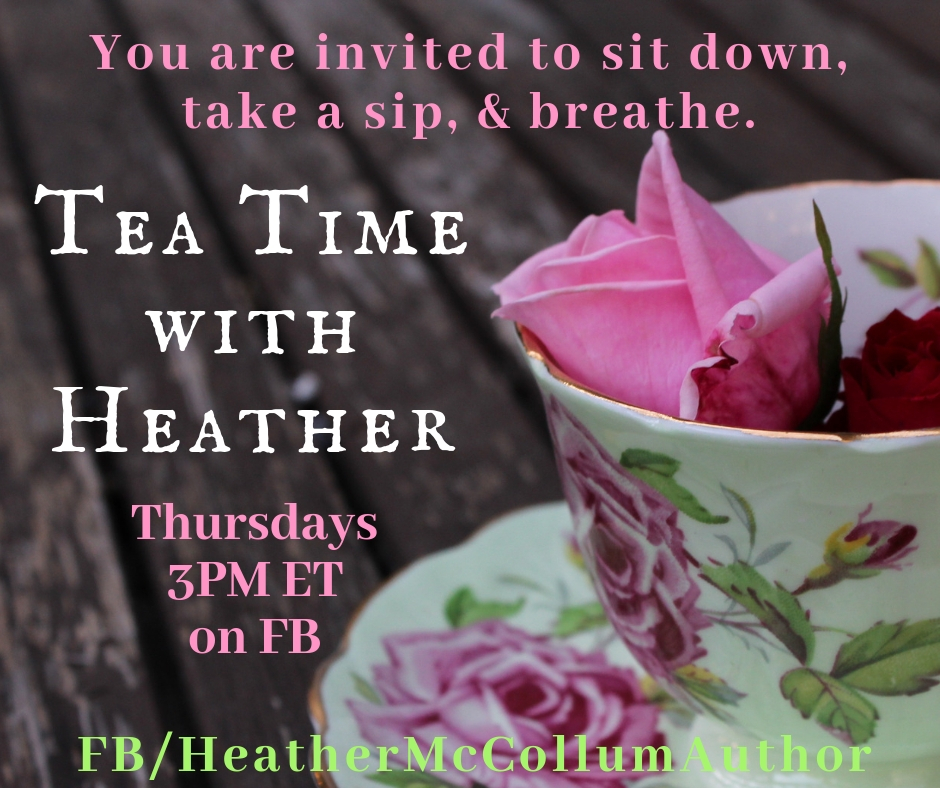 Join me for tea (or coffee or anything that refreshes) every Thursday afternoon at 3:00 PM ET on my FB page (Heather's Author FB Page Link). Some weeks I'll have formal Afternoon Tea. Some weeks I'll show up in my cozy pants and t-shirt, frazzled and needing more than anything to sit and breathe.
You are invited, no matter what's going on or where you are. You are invited to sit, breathe, and take a sip. My hope is that we will all learn to prioritize the need to take a step away from the hectic whirl of life to just BE. In being still and taking moments for ourselves, we slow down the speed that makes life fly by way too fast. Living life to the fullest means taking time to notice it.
So, join me for slowing down, taking notice, and sharing a cup. Heather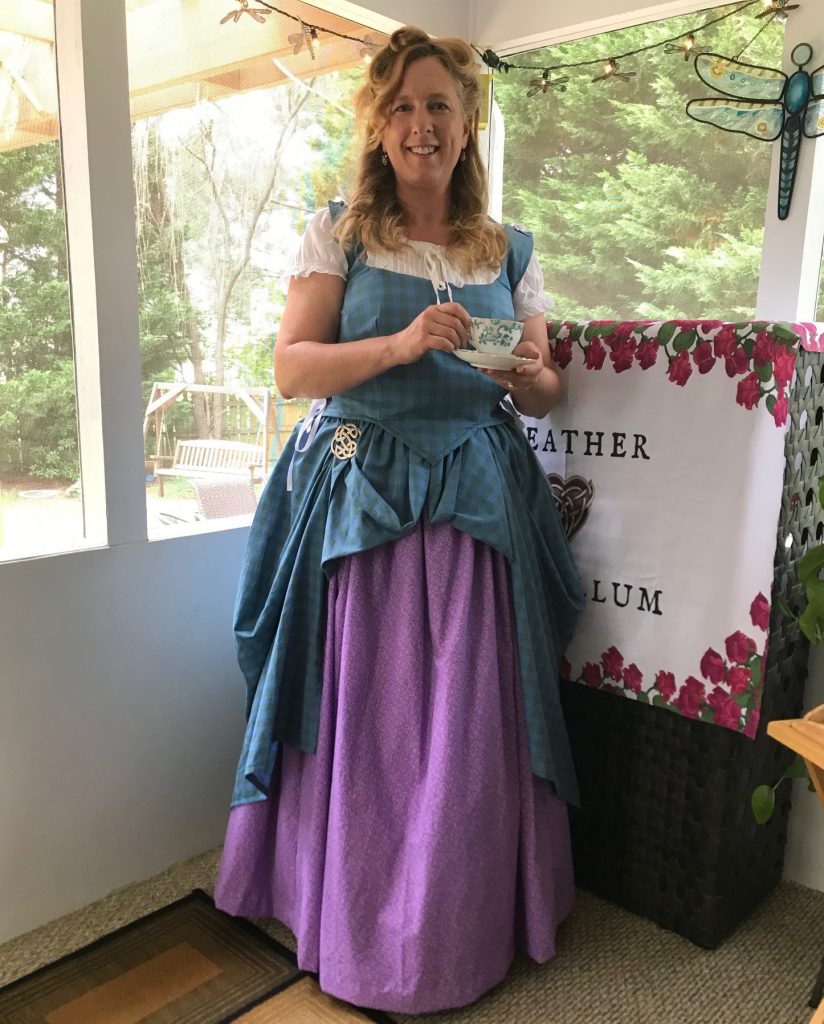 SaveSave