Welcome to the Castle!
Welcome to McCollum Castle! 
Feel free to roam around in the "rooms". Books are in the library, recipes are in the kitchen, ovarian cancer information in the apothecary. There is a secret stairway in the bedroom, although it is password protected and available only to my monthly newsletter subscribers. 
Right now, if you subscribe to my newsletter, you can get a FREE copy of The Beast of Aros Castle! Then if you love it, you can remain subscribed to stay up-to-date on my sales, new releases, writing projects, and crazy writer life. Otherwise, you can unsubscribe at any time. 
Just click the book cover or big "Click Here" down below to sign up!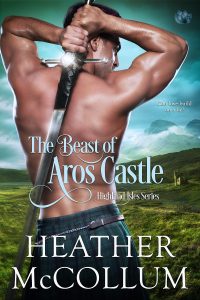 Ava Sutton is on the run from a dangerous man and makes her way safely to Scotland. Masquerading as a titled, English lady, she must convince the darkly handsome chief of the Macleans of Aros to wed her before she is tracked down.
Tor Maclean, the new chief of Aros Castle, has sworn off marriage. Despite his efforts to scare away the Englishwoman his father arranged for him to wed, Tor is nonetheless drawn to her passion and beauty. But he doesn't know if he can forgive the untruths that have come to light for a chance at a once in a lifetime love…
5 Stars: "There is SO much to love about this book!…It's passionate and steamy and I loved every passage and word." – Kilts and Swords
5 Stars: "This book has so many depths that I had to go 5 stars. It touches on life and emotions. It has loyalty of kin, loyalty of love as well as loyalty of family. It shows the scars and blemishes that can occur in relationships while still finding love. A mystery, a crime, passion, romance, stubbornness." – Anna S., Goodreads.com review
5 Stars: "This has everything I love in a romance story. Swoon worthy Hero with wit, intelligence and strength, and a Heroine who protects others, is strong and with a wit to match the Hero's." – Tea & Book Lover

Join me to celebrate National Hot Cocoa Day on January 31st at 2:00 PM ET! It's a Zoom Party. Come with your favorite warm beverage and chat. I'll also be demonstrating how I make my from scratch favorite hot chocolate. Send me your e-mail in the contact form so I can send you the zoom link. Hope to see you there!