About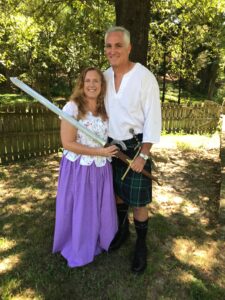 Hello! I'm a mom of three spirited kids, dog-mom of one rescued golden retriever, and a sugar glider-mom of a rescued marsupial. I love chai lattes, homemade hot chocolate, baked goods that I shouldn't eat, dragonflies, and the British Baking Show. When I'm not running around being "Mom" or writing Scottish historical romance, I'm usually educating women about ovarian cancer. I'm a 9-year survivor and very fortunate to be alive to love my family.
My first publication was in my local, small town newspaper when I was in second grade. My Christmas story had the word "tiptoed" in it which amazed my teacher and sky-rocketed me to publication. But I wasn't sure that I wanted to be a writer. After all there was baton twirling, hula dancing, comedy and all sorts of other careers vying for my attention.
My grandmother gave me my first romance novel when I was fourteen, The Flame and The Flower by Kathleen E. Woodiwiss. The heroine's name is Heather and I fell in love with Captain Brandon Birmingham. I read it over and over and then began to devour all of Ms. Woodiwiss's books. Not only did I fall in love with her stories, I fell in love with the romance genre. In a teenager's world, where so many events seem like tragedies, whether they really are or not, romances guaranteed a happy ending. So I sat in our pre-Civil War Virginia farmhouse with my five rescued dogs and the ghosts (fodder for my ghost stories to come) and read.
Every essay I had to write in high school had a happy ending and a kiss. Most of my teachers advised me to major in English, including my chemistry teacher who still remembered the time I accidentally sparked a small fire in his room. So people were surprised when I flew off to a small college in Maine to major in Marine Biology. I was set on saving dolphins, snails, and ecosystems. Writing was too subjective, I said. With science, answers were right or wrong.
I met my Captain Brandon my second year up in Maine, a six-foot four-inch dark-haired Scot. After four years of being muddy, wet and frozen while I tromped across mud flats with him, I earned my degree in Biology and headed to Grad school in the Southeast with my then fiancé. It didn't take long before I realized that I liked working with people more than Petri dishes and I dropped out, found a job, and continued to read happy endings.
I married my Captain Brandon and settled down with two spunky Yorkshire Terriers. It was just before Christmas and we'd moved into a rental house. The front living room stood empty since we didn't have enough furniture. So my DH set up a computer in the corner.
I sat down at that old computer . . . and began to type. Once the gates were opened I couldn't stop. I continued to work, read romance, cuddle my dogs and love my DH. But something had changed. I could sit before the screen and transport back in time to sweeping Scottish landscapes, and all the anxieties of the day would fade. 
Now twenty+ years later, I am fortunate to be able to write every day, creating adventures full of love and happily-ever-afters!