Chai Tea Latte Recipe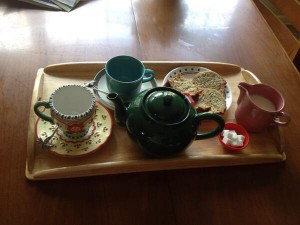 Ingredients:
1 cup whole milk
2 cups filtered water
1 cinnamon stick in pieces
4 cardamom pods
5 cloves
1 tsp. black peppercorn
2 star anise pods
¼ tsp. ginger powder
2 Tbsp. sugar
1 Tbsp. black tea
Put milk and water in medium saucepan. Add cinnamon, cardamom, cloves, peppercorns, anise pods, ginger, and sugar. Bring to boil (watch closely so it doesn't boil over), then simmer for 5 minutes on low heat. Turn off heat, add tea leaves and steep, covered for 2-3 minutes. Strain out spices, then enjoy! Serves 2.
You can add more or less sugar depending on your preference.