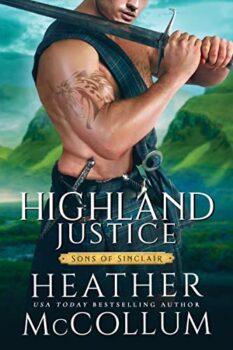 Sons of Sinclair #3
April 26, 2022
Entangled Publishing (Amara)
Available in: Paperback, Audio, e-Book
Highland Justice
As the new chief of Clan Mackay, Gideon Sinclair knows the importance of maintaining order at any cost. To keep the conquered clan in line, Gideon must mete out ruthless justice or risk losing their precious new peace. But from the moment he meets Cait Mackay—aye, from the moment the sweetness of her lips captures his—all of Gideon's careful objectivity is well and thoroughly compromised.
Cait knows that kissing the brawny Highlander is a dangerous game. It was bad enough she picked his pocket to feed the children in her care, but sometimes a desperate woman must disguise her crimes any way she can. Only her act of deception has made things worse… Because one kiss with the Highland's most brutal chief leaves her breathless and out of her depth.
Now Gideon must choose between his duty and his heart when his lovely thief is accused of treason against the king himself.
Each book in the Sons of Sinclair series is STANDALONE:
* Highland Conquest
* Highland Warrior
* Highland Justice
Gideon has found an intruder in his bed chamber.
*************************************************
Dressed all in black to blend into the shadows, it was difficult to make out the form. But the shadows couldn't hide the softness of a woman's body as Gideon pulled her against him.
He grabbed her wrist, but with a twist and a yank, she escaped his hold and tried to turn back to the window. "We're three stories up, lass," Gideon said. "Ye will split your head on the hard ground if ye go that way."
She lunged onto the window's ledge, apparently not deterred. Was death preferable to being caught by him? He grabbed her around the waist, tugging her back inside, his face pressing against the back of her neck where a mound of dark hair was pinned. "Who are ye?" he asked.
Gideon turned the woman around to face him. Instead of rearing back, she threw herself into him, hugging around his chest with both arms as if he were a huge tree she wished to climb or uproot from the ground. He grunted, and her covered face tipped up to him. She pressed upward against his body, her arms rising as she stretched onto her toes and held his shoulders. He had no time to react as she grabbed behind his head, pulling his face down to hers to kiss him.
Bloody hell! What was she doing? Gideon certainly wouldn't let a lass dupe him like Ella had tricked his oldest brother with a kiss, to escape him when they first met.
Fingers tugging his hair, she pressed her lips hard against his. The kiss was clumsy, frantic, like a virgin caught in her first storm of passion. But when her warm palms caught his face, and she slanted across his mouth, deepening the kiss, he wondered if she possibly had some experience.
She stroked fingers through his hair, her warm lips moving over his, and her frantic desperation began to calm. As the stiffness he'd felt in her faded, so did his thoughts about Ella tricking Cain and whether this soft creature in his arms was a maiden or not. Even the questions about how she got in and her ultimate purpose washed away with the growing warmth of her response. Perhaps it was the darkness, or the mystery of who she was, or the scent that plucked at his memory, but fire ignited inside Gideon. His arms encircled her, pulling her soft body against his hard frame.
Gideon lifted her, backing her against the wall. She was all womanly curves and softness. His fingers tangled in the twist of hair at her nape. Pins fell, plinking on the stone window frame next to her, and her heavy braid slipped down over one shoulder. He pressed his face to it, inhaling along the thick length as they both pulled shallow breaths. It was silky and fragrant, tugging at that memory that wouldn't reveal itself. Who was she? Would she stay the night?
His mouth fell upon her neck, tasting the light saltiness there as he trailed kisses over her smooth skin. Her head tipped back against the wall, her breath coming in shallow rasps. He moved back to her parted lips where the kiss swept them both up again. The woman's scent, her warmth and curves, the mystery around her… It all ensnared him. Like a siren in Homer's Odyssey.
He held her between him and the stone wall beside the open window. Cold air had no effect on him with such fire growing inside at her response. He captured her face in his hands, feeling the mask. It was wool and tied tightly. He reached behind her head to pluck at the knot. As if the lass had been under the same spell as he, his tugging on the ties startled her into action. She gasped, turning her face away before he could free the knot. She shoved at his chest, her knee rising, but he shifted so she missed his groin.
"Hold still," he said, but her hand whipped out toward him, and Gideon felt the sting of a blade across his arm. Surprise made him release his hold for a second. Apparently, that was all the time the lass needed to hurl herself out of his window.
"Nay!" he yelled as she disappeared, leaping to her death.
back to Top
Kirkus Review
"McCollum's romance ably balances a suspenseful game of political chicken, the possibility of civil war, and skyrocketing sexual tension between Gideon and Cait. Along with their crackling chemistry, the couple build a deep respect for each other that involves the shedding of emotional and social barriers; Gideon says to Cait: "We convince ourselves that we're something we're not. We bend our world around that impersonation to protect ourselves from an ugly world that requires us to be something else." Though filled with the genre's common tropes, the novel also considers identity, gender equality, and the nature of justice. And we see some comic relief in the form of fraternal hijinks among the Sinclair brothers. Hot, humorous, and well paced." 
Publisher's Weekly
"McCollum's irresistible characters and their witty banter, along with a taut and perfectly paced plot, will have readers quickly turning pages. This is a first-rate highland historical." 
♥♥♥♥♥
"McCollum does it again by taking me back in time to the time of the Highlanders. Every new addition to the Sons of Sinclair series gets better and better." -Reading with Abigail
 "Another breathtaking story that totally swept me away!" -Celtic Barb  
"I recommend this book to people who love historical romances set in Scotland, enjoy strong, independent lasses that can verbally challenge the biggest and most formidable warriors, delight in humorous and sensual trists, and thrive on intrigue and surprising twists and turns." -The Eclectic Review  
"I was drawn into this vividly detailed story and found it wonderfully enjoyable." -The Bucolic Bookshelf  
"A marvelous, action packed historical romance." -Warrior Woman Winmill  
"This novel was so sexy and so sweet I really enjoyed this love story from beginning to end!" -Smexy Reads  
"Its a really sweet story with some edge of your seat action that makes you not want to put it down until you reach the end." -Danie Reads 87 
"Highland Justice is the third book in Heather McCollum's Sons of Sinclair series, and it is just as entertaining and romantic as the first two. I am really enjoying this series and find each brothers' story unique and compelling." -One Book More
"Heather McCollum never ceases to amaze me. Every book is better then the last one." -Cozy Couch Blog  
"This book was full of action from start to finish!" -Sarah T Dubb  
"A great story with great characters set against the backdrop of the Scottish highlands in a perceived politically charged period." -Talking Books  
"Loved it! I was sooo excited to read this book and it did NOT disappoint!! This series is AWESOME!!!" -Carey's Reviews
"Perfection!! ❤" -Alpha Book Club