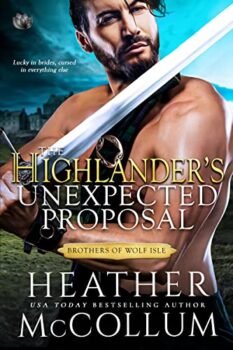 The Brothers of Wolf Isle #1
October 19, 2020
Entangled Publishing (Scandalous)
Available in: Paperback, Audio, e-Book
The Highlander's Unexpected Proposal
A lass begging to marry him might top the list of "oddest things to happen," but Chief Adam Macquarie is desperate. And no matter how much he hates to do it, he's not above lying to get what he wants. Starting with the fact that he just omitted the truth about the situation back at his home—where there are no women and only a handful of other people. Because he has a secret need for a wife himself, one she won't be too happy about when she finds out.
Lark Montgomerie is thrilled the brawny chief agrees to save her from her drunken father's machinations of wedding her off to the first fool that agrees. He's easy on the eyes and no one can be worse than her current options. Now a new life awaits her, on an exciting Scottish isle no less, and nothing will dampen her spirits. That is, until she arrives in her new homeland and realizes more than a few things are amiss…
A lady's shoe sat on top of the leaf litter below a thick, branched tree. Adam nudged it with his boot and glanced upward, spying the match balanced on a limb high above. The lass's other foot was bare, her toes curled to hold her in place. Blue skirts were rucked upward, twisted around her legs. Adam moved side to side to see past the leaves. Dark lashes framed wide eyes set in a heart-shaped face. Reddish hair hung to one side in a thick braid.
"Her father says he will not take her home, so she has to wed tonight." A man's voice broke the stillness of the wood. "She has no choice but to wed me."
"Perhaps we could share her," the other man said with a bark of laughter, hitting the other man's arm.
"She could say no to us both."
"Roylin was half in the bag last night with whisky and said he'd sell her off tomorrow if she did not wed. With four other girls and no dowries, Lark must marry at this festival. Tonight."
The two men stepped into the shade of the forest. "Oh Lark," one called, extending the name like a song. "Where are ye, lass? Fergus and I have something to ask ye."
Adam bent to retrieve the lost slipper, sliding it into the drape of his plaid and stepping away from the tree. "Ho there," he called, making the men stop, their hands moving to their short swords. "Finding a bit of shade," Adam said with what he hoped was a smile. He didn't smile often, so it felt tight.
One fellow frowned but the other raised a hand in greeting. "Have ye seen a lass with wavy red hair come through here?"
Adam looked off in another direction. "Nay, but I heard someone up that way. Twigs snapping, that sort of noise."
They hiked off in the direction Adam had indicated. After a long minute, he leaned back against the tree. "Would ye like assistance?" he asked without looking up.
"Go away," she said, her words in a forceful whisper.
Adam pushed away from the tree. He would not press upon a reluctant lass. His brother, Beck, would find a bride elsewhere.
"Blast," the woman whispered. Perhaps she was too stubborn to ask for help. Stubborn determination was something Adam knew well. It was what kept people alive, kept them moving forward when all seemed lost.
The leaves shook as the woman moved in the boughs of the tree. Adam walked under the branch where bare toes reached down, flexing and pointing, as she felt around blindly. Her toes were tiny appendages, the nails neat and without dirt. The lass's skirts billowed out as she squatted. "God's teeth," she murmured.
Dodging the wildly circling kick, he reached up. "I will guide your foot to the branch," he said. Her toes flexed. Glancing up, he saw a pale face with large blue eyes tipped down toward him. A thick braid hung over one shoulder, and her lips looked soft and lush. A sprinkling of freckles sat along her high cheekbones and the bridge of her nose.
She blinked at him, her mouth closing into a tight line. "I need no help."
"Your cursing makes me think ye lie." Her toes dangled in the air an inch above the branch that she could not see due to the petticoats. She gasped as he caught her foot, tugging until the ball of it touched the branch, her perfectly formed, little toes curling around to help her balance.
"Move back, and I can jump down," she said, narrowing her eyes.
She had the longest eyelashes, and some red curls had escaped her braid to slide forward along her smooth cheeks. "A leap from that high could break your ankle." He reached for her waist.
Shuffling sideways she said, "I do not need any man to—" Her denial cut off as she lost her balance, falling forward, her hands grasping at the weak twigs with leaves, making the tree shudder. Adam caught her, his hands wrapping around her cinched waist to pull her toward him.
Her skirts caught on the branch, lifting them high as she descended. "Bloody hell." She slapped her petticoat off the fingerlike branches that seemed intent on exposing the secrets she kept beneath.
Her lush form slid down his, and he inhaled at the contact, as if the pressure of her plucked along every muscle in his body. She smelled of some type of flower and spice, making him suck in another breath as he held her form against him. She felt as soft as he was hard. For several heartbeats they stared at one another, her face mere inches from his. What does she taste like?
back to Top
"Heather McCollum does it again! Every book I've read by this author has been better than the last. The imagery, characterization, and plot made this book a magical Trip to the highlands. I eagerly await the next from this incredible author." -Julie D., NetGalley 
"I adore Highlander romances and I love Heather McCollum writing them even more. The flow of the story, the character development, the mystery, and the sensual sizzling chemistry between the leads all blend well to create a sweet and sensual romance." -Neeha J., Goodreads 
"This book is filled with mystery, adventure, love, hot 'sexy times', hope, strength & adversity. Great book and I can't wait for the rest of the series!!" -Carey H., NetGalley 
"I was hooked from the beginning, and this is definitely a book I could see myself reading again and again. I knew I made a good choice requesting this when as soon as I finished, I went to see when the next one will be coming out!" -Books I Love Blog 
"The Highlander's Unexpected Proposal by author Heather McCollum steals your attention from the get-go. Intriguing characters, a few twists in the plot and some returning characters from past stories by Ms. McCollum ensure that the pages keep turning. A story that turned out to be an entertaining read." -Talking Books Blog 
"Smexxy highlanders, a feisty heroine, a cursed isle, an alleged witch and pirates! From start to finish The Highlander's Unexpected Proposal is a book impossible to put down! Highly recommend!" -Veronica W., Goodreads
5 stars!
I loved, loved, LOVED this story!! Any Heather McCollum books are a "must read" for me because this author never disappoints me with her stories and imagination. I love being taken away to Scotland and immersing myself in a book such as this one.
Being the first book of this brand new series, we meet all 5 brothers of Wolf Isle and I for one, am very much looking forward to reading each brother's story!! This one is Adam's story, he's the clan chief of the cursed Wolf Isle and will do everything needed to rebuild his clan and his home. He and his brothers need to marry and an unexpected opportunity opens up to him when he meets Lark at a Beltane Festival. Secrets abound and danger lurks while emotions struggle!
I adored Adam's character, as well as Lark's, each are such strong and honourable but trust is an issue they must work on. Secrets have to be told before they can completely give their hearts. I also loved the banter between the brothers….having been raised as the only girl with 4 brothers, I can relate! lol
I received an ARC of this book via NetGalley and am voluntarily leaving an honest review. Carole at Goodreads
***************************************************
5 Stars!
Sexy Highlanders, Action, Romance, Intrigue, what else do you need in a book? This is a page turner that I would recommend based on the author because she writes great books! This is a great start to a series and I can only imagine what the next one will bring!
Adam of Wolf Isle is not anticipating coming home with a bride! He thought he was helping his brother pick out one, but instead he gains one.
Lark is desperate to leave her father's home, but not her siblings. She chooses Adam, but she has no clue what awaits her on this Mystery Isle!
No Spoilers here, but this is one book you need to read because the mysterious things are about to happen for this young wedded couple!
I received an advanced copy from NetGalley and these are my willingly given thoughts and opinions! Vicky's review on Goodreads
*****************************************************************
"Heather McCollum does it again! Every book I've read by this author has been better than the last. The imagery, characterization, and plot made this book a magical Trip to the highlands. I eagerly await the next from this incredible author." -Julie D., NetGalley 
"I adore Highlander romances and I love Heather McCollum writing them even more. The flow of the story, the character development, the mystery, and the sensual sizzling chemistry between the leads all blend well to create a sweet and sensual romance." -Neeha J., Goodreads 
"This book is filled with mystery, adventure, love, hot 'sexy times', hope, strength & adversity. Great book and I can't wait for the rest of the series!!" -Carey H., NetGalley 
"I was hooked from the beginning, and this is definitely a book I could see myself reading again and again. I knew I made a good choice requesting this when as soon as I finished, I went to see when the next one will be coming out!" -Books I Love Blog 
"The Highlander's Unexpected Proposal by author Heather McCollum steals your attention from the get-go. Intriguing characters, a few twists in the plot and some returning characters from past stories by Ms. McCollum ensure that the pages keep turning. A story that turned out to be an entertaining read." -Talking Books Blog 
"Smexxy highlanders, a feisty heroine, a cursed isle, an alleged witch and pirates! From start to finish The Highlander's Unexpected Proposal is a book impossible to put down! Highly recommend!" -Veronica W., Goodreads 
"The story nicely combines the suspense of the curse and who is on Wolf Isle with the sweet romance between Adam and Lark giving a perfect read to while away an afternoon with." -Words We Love By Blog 
"This book had everything I was in the mood for; highlanders, marriage of convenience, fun plot twist and great characters, What a great start to a new series, I will definintely be on board for the next instalment of the Brothers of Wolf Island series!" -Pincowland Reads 
"Heather McCollum is absolutely brilliant. This book was incredible. There are curses, witches, pirates, and lots of lies. This book had me from the get-go!" -alison P., NetGalley