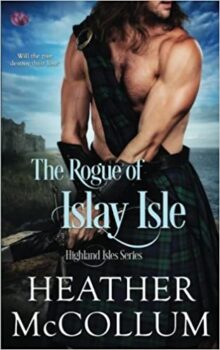 Highland Isles #2
May 15, 2017
Entangled Publishing (Scandalous)
Available in: Paperback, Audio, e-Book
The Rogue of Islay Isle
Cullen Duffie, a Highland warrior and charming rogue, is the new chief of Clan MacDonald. Determined to prove he's not his father, Cullen works to secure his clan against the English. When a woman washes onto Islay's shores, Cullen protects her from his uncles' schemes.
Waking up not knowing who she is or where she comes from, Rose is at the mercy of the man who found her. Unable to speak from the swelling around her throat from a rope tether, she learns as much as she can about the new world around her and the powerful, sword-wielding Highlander who has sworn to protect her.
Through dreams and flashes of her past, Rose begins to rebuild her memories. But the more she recalls about the horror she escaped, the more she realizes the jeopardy she is bringing to Islay, Clan MacDonald and the Highlander who has captured her heart.
Captain Taylor held out his hand to Rose, and she touched her fingertips to his palm. "Have we met, Mistress Maclean? Perhaps on Mull?"
Rose shook her head."Speak up now," Captain Thompson said next to Taylor.
"She cannot speak," Cullen answered for her. "And no, she is visiting from a northern branch of the Maclean clan."
"Cannot speak?" Captain Thompson said. "How so?"
"An injury," Cullen said and felt very much like he was digging a bigger hole with each utterance. But there was no going back. He only hoped his explanations came across as genuine.
Captain Thompson stepped closer, his gaze narrowing in on Rose's neck where the shawl slipped to reveal the scabs. "God's teeth, Duffie, what have you done to the girl?"
Rose's hand went immediately to the shawl, tucking it higher around her throat. Beatrice stood completely still beside Errol. He and Broc both wore frowns and rested their hands on the hilts of their swords.
"Mistress?" Captain Taylor said, his hand tugging on her shawl until it slipped away, showing the dark ring around her neck. "You were being hung?"
Broc made a noise through his teeth. "Of course not. We don't hang Scots visitors." He left the rest of the boast, about hanging English visitors, unsaid.
"An accident," Errol said.During the exchange Rose kept a calm expression, her head held high, as she rearranged the shawl around her abused neck. Was she really as brave as she looked or could he add actor to his uncles' lists of Rose's possible sins.
Captain Thompson looked between Errol and Rose. "What type of accident leaves that sort of mark about a woman's neck?"
The whole exchange was twisting out of control. He needed to cut the conversation and guide the captains out of the garden. "'Tis of a personal nature," Cullen said. "Now, if you would like that tour, we can start in the kitchens." He held out his arm to indicate the pathway.
Captain Taylor refused to take his scrutiny from Rose. Even though she cast her eyes to the bricks, she stood firm, transforming to stone like a maiden in Medusa's garden. "I am not leaving this spot until you or Mistress Maclean tells me how she came by the rope burn around her neck," Captain Taylor said.
"Aye, what is this personal injury?" Captain Thompson asked, thick lips jutted out.
Cullen exhaled and glanced at Rose. "Forgive me." She did not move. Did she think he'd give her away, throw her to the English captains? The thought made his fists clench. He looked to Captain Taylor, who'd finally pulled his gaze from her to Cullen, demanding the truth with his stare. "The rope burn was obtained in my bedchamber," Cullen said.
Broc choked and began to cough into his fist. Beatrice held her fingers pressed to her lips while Errol's eyes went wide."Aye. We were but playing, and the rope caught around her neck," Cullen finished.
"Playing?" Captain Thompson said, the idiot not catching on. Did he require a sketch drawn?
"In a carnal fashion," Cullen explained for his benefit.
"He likes to tie the lasses up," Broc added. "It's something we don't tell his mother."
back to Top
5 Stars: "The Rogue Of Islay is one of those books where you want to shut out the world, curl up under a blanket and just read! Heather McCollum transported me back to 16th Century Scotland, and for a while, I was more than happy to stay there!" – Mary's Bookcase
 5 Stars: "This was a fun and intriguing read with twists and turns and a lot of love in between! Heather's characters are always fun, sweet, brave and sexy!" – Anissa, Goodreads.com review
 4 Stars: "This was a really good story. The plot was unique, and Heather McCollum's great writing skills made it difficult to put the book down." – Lisa, Goodreads.com review
5 Stars: "Cullen and Rose were a delight to read. The twists in the story held this reader captive to the antics and challenges faced by the characters." – Talking Books Blog
 4 Stars: "This book was jam packed with mystery, action and romance…It was never a dull moment and I was totally hooked from the very first page 'til the last." – V SB, Goodreads.com review
 5 Stars: "I liked this book. I liked feisty Rose and caring Cullen. I liked Broc and Errol, Cullen's cousins, and wouldn't mind finding out more about them." – Cathy G., Goodreads.com reviewer
 4 Stars: "This book is romance, passion, love, and life. Catches the heart and the mind. I was caught up in the story and could not put it down until the end." – Anna S., Goodreads.com review
 5 Stars: "5+ Stars!! What a great book!! I enjoyed this story!! If I could, I'd give it MORE stars! (I loved it that much!) I was very entertained by this story- I couldn't put it down!! Now I want a Cullen Duffie of my very own!" – Carey, Goodreads.com review