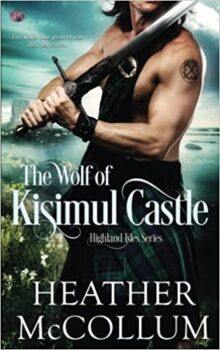 Highland Isles #3
August 14, 2017
Entangled Publishing (Scandalous)
Available in: Paperback, Audio, e-Book
The Wolf of Kisimul Castle
"The Wolf of Kisimul Castle was a delight to read. It was heartwarming, had me laughing and crying. This book is a must read!" – USA Today bestselling author, Madeline Martin.
Mairi Maclean is kidnapped on her wedding day by the enemy of her groom. Taken north to the water-surrounded Kisimul Castle, she is held captive in the name of retribution. But The Wolf of Kisimul Castle soon learns Mairi is not a docile pawn in this game of war between neighboring Scots. Nor will she be frightened into walking down the aisle to wed the fierce Highland chief.
Alec MacNeil is set on revenge for the murder of his wife. And Mairi is how he'll get it. An eye for an eye. A bride for a bride. But Mairi is more tiger than kitten and refuses to bend to his will. Set stubbornly against one another, the passion that flares between them threatens to tear Alec's strategy to shreds.
Her outstretched hand hit the tower of spiced cakes sitting on a table by the exit into the courtyard. Arching upward, she watched them topple. With it came the realization that she was not being taken to the chapel. "I said put me down." She sucked in sporadic inhales as he carried her slung over one massive shoulder.
He pulled his sword as they neared the dogs and lowered her feet to the ground. With a furious look, he raised his sword with the hand that wasn't anchoring her to him. For an instant Mairi wondered if he'd slaughter the dogs, but he sliced through their ropes, freeing them. "If ye don't walk, I will carry ye," he said.
"Who the bloody hell are ye?" she asked, her rose crown hanging before her eyes. She slapped it back and quickened her steps to prevent him from dragging her. On the other side of the garden gate, in the thick wall surrounding Kilchoan, sat two men on horses in a dense stand of young trees. They wore green plaids, making them hard to spot. A white horse with roses in its mane stood to the side of the pebbled road next to an unconscious man tied to the trunk of an oak. This was definitely not a foolish prank or loyalty test. She turned to Alec, a thousand questions on her tongue. What was happening? Who was he?
"Why did ye kiss me?" fell from her mouth. Of all the questions, she'd chosen the most foolish of them all.
"Ye kissed her?" the warrior with red hair asked, his eyebrow rising high. The other man scrunched his face. "That wasn't part of the plan."
"The plan changed," Alec said.
"But the plan never changes," red hair said, scratching his chin. "Unless it involves dogs." As if on cue, the three freed dogs ran up to the horses, tails wagging. Some watchdogs they were.
"I can't believe he bloody kissed her," the other man said, a grin spreading across his lips.
Without another word, the large warrior hoisted her up onto his black horse and climbed behind her. He pulled her up against his hard chest. "I have a right to know who is stealing me away," Mairi said, twisting to peer up into his face. A glint sharpened his steely blue-gray eyes. "Who are ye?" she whispered.
Without warning he clicked his tongue, and his horse took off, making her turn forward to grasp the pommel. His lips, the ones that had made her question meeting Geoff at the end of the aisle, came up next to her ear. "I am Alec MacNeil, the Wolf of Kisimul Castle, and ye are Mairi Maclean MacInnes…my new wife."
back to Top
5 Stars – Talking Books Blog: "This book series from the very first story, has been truly rapturous and exhilarating to read, and The Wolf Of Kisimul Castle by Heather McCollum has the outstanding series continuing. Focussing on Mairi and Alec's characters, the story has action, cheekiness, romance and scorching moments that manage to ensnare readers attentions and hold them captive to the dialogue in the story. A complete draw-card of a read. The Wolf Of Kisimul Castle is the third instalment in the Highland Isles series – a series not to miss."
Review copy received from Entangled Publishing via Netgalley
5 Stars – Michaelene, Goodreads
"So, I'll just be here…waiting to be carried away by a rugged highlander.
I just loved this book! The writing captured me right away. Heather McCollum's The Wolf of Kisimul Castle, Mairi Maclean is about to be wed when a highlander comes into her room and spirits her away to his cursed fortress. But Mairi is no shrinking violet, and if Alec MacNeil thinks she'll just show up at the church like an obedient bride, he's got another think coming.
"Ye free dogs, but bind women?" she asked, inhaling deep draughts of air.
"Aye on th dogs. Not usually on the women."
Let me start by saying these characters popped right off the page. Mairi's widowed early and she's been through hell. But she's such a strong character—not only in mind, but in spirit. She kept surprising me by things she'd do or say. Willing, obedient captive, she is not. And yet, there's something about the clan chief, Alec MacNeil, that just makes her stop and take notice.
Gosh, the things this girl does! It was an uproarious journey and battle that slowly develops into something extra. I didn't want to stop reading.
Then there's Alec MacNeil himself. Total swoon material. He tries so hard to be this "captor," he truly does. Alec's a single dad and after the murder of his wife, he's in the market for a new one. That, and no woman dares step foot into the fortress everyone considers cursed. But he's got Mairi now. He just needs to find a way to keep her…
There was so much humor and wit packed into this delightful novel. I was so invested. I think my favorite side characters, too, have to be Alec's children. Be prepared to be charmed and to lose a little bit of your heart to them. There's also another part of the plot that opens up too, and nothing was taking me away from this story.
I'm going to go back and read the rest of the Highland Isles series because I'm addicted. A new go-to author for me for a sweet and sexy highland romance.
*I voluntarily reviewed an arc via the publisher on NetGalley in exchange for a fair and honest review* "
4 Stars: Lizzie B, Goodreads
"I loved this book, it really made me laugh.  The children are really funny along with a strong heroine and a surly hero whose friends make constant jibes at.  Very entertaining."