Have you ever attended a small writers/readers conference? I used to think that I had been to several. Compared to the over two-thousand attendees at the National Romance Writers of America conference, the Georgia Romance Writer's fabulous Moonlight and Magnolia conference seemed intimate at three-hundred attendees. But this past weekend I attended the Tasty Tours Booklovers Weekend in Wilmington, North Carolina with under fifty other authors, readers and industry professionals.

At first glance I worried about getting anything out of such a micro conference. The hotel was small and quiet. There were no bunches of authors networking in the lobby, no packed elevators of badge-wearing attendees, and no lines waiting to check in with the Tasty Tours registration table. The pre-conference lunch only sat about thirty.
My mom had come along with me and we stepped to the back of the luncheon buffet line. After spending only five minutes waiting, we sat down with full plates and sweet tea. I introduced myself and my mom to the woman next to me. She was a well-known agent who had worked at Harlequin as an editor for years. Umm…wow. The luncheon speaker sat down with us. She was a multi-published author who had flown in all the way from Alaska for the weekend. Really? I gave her advice on public speaking since she seemed a bit nervous and I used to teach professionals how to give talks. She called me her angel for helping her and did a fantastic job.
Afterwards I hurried up to the conference room where I would give my first industry talk: Juggling Scissors and Glue to find Focus by Collaging your Next Book. I had four attendees. Sigh…But, it was fabulous! The conference organizer attended, a reader from Upstate New York, one of my own chapter mates who'd I'd never really met before, and an award winning author of over sixty romances (Joanne Rock). Whew! We had so much fun clipping, gluing trading advice and learning about one another.
I met up with my mom for dinner and we ate in the hotel restaurant with several of the attendees I'd met already, including the agent. We talked about everything not industry related: families, health, vacations, movies, etc.
The cocktail party that evening had about thirty attendees and I made it a point to sit with people I didn't know after waving to my dinner friends (yes, after learning about their families and laughing over our own failings I was starting to consider them friends). I met some more authors (one who'd flown in from Washington State), the editor at another publishing house, the multi-published author to speak at Saturday's dinner, and then finally sat down at a table with a fun group of Indi erotica authors who showed me all their tattoos.
The three workshops I attended the next day were exceptional and allowed for constant audience participation and questions. The talk, Scene CPR by Laurin Wittig, may have saved my next book which is due to my editor in less than a week. Not only did Laurin save my book, but we found out that we write in the same sub-genre (Scottish historical paranormal romance) and now hope to travel to the northern Scottish isles together some day. I attended Joanne Rock's talk on self-promotion, taking generous notes from her and the various bloggers in the audience. One blogger stayed after to help me figure out how to run a big contest (giving away two One Direction tickets!) for my next book release. She knows everything about contests and I had known nothing (FTC terms and conditions? What?!).
That night we had another wonderful buffet meal together with an inspiring talk and a small awards ceremony. Apparently when hotels make food for small groups, it doesn't taste so much like "hotel food." I even went back for seconds. And my book won a prize! Yay! Instead of hurrying, exhausted back to our hotel rooms to pack or trying to network in the lobby or bar, we all just stayed and talked in the banquet room. By the end of the night we were hugging each other goodbye, making sure we had each other's contact info, and begging the conference organizer to put on another one in the future.
I never would have thought that a tiny conference could be so huge in benefits. I may have learned more over those two days, with under fifty people, than I learned at a four-day conference with thousands. I connected with an editor/agent who I now consider a friend (we plan to meet for coffee after realizing how close we live). I got personal help from an experienced blogger. I found a possible writer soul mate who wants to travel in Scotland with me. I became good friends with a published author who has more than sixty books under her belt. I had fun meeting nearly all the attendees and I digested important information from the workshops in small enough segments to allow me to remember nearly all of it.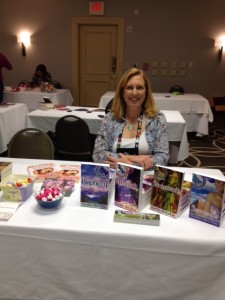 Bottom line – the mini conference can be a fantastic, HUGE experience. I now recommend them with my whole heart. Look in your area. Look around the country. See if you can find a small and intimate writers/readers conference. It may just be the best one you ever attend.
If you have any recommendations, I'd love to hear about them!