For those of you who have tried these bite-sized bits of heaven, you know why I call them magical. Delicious and not too hard to make. These balls have won my neighborhood cookie exchange for the last 3 years. I've decided to bring them this year but not enter them as it just isn't fair for everyone else – LOL!
Enjoy and Happy Holidays! Heather
Magical Oreo Balls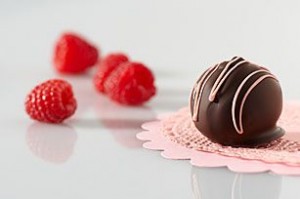 By Heather McCollum
Ingredients: 1 Package of Oreos,
8 oz brick of cream cheese (I add a little more)
Chocolate to melt (I used semi-sweet chocolate chips or Hershey bars or kisses)
White chocolate to decorate
 Red Cherry Candies (optional)
1. Crush Oreos (food processor, chopper, or with a kitchen mallet & zip lock bag)
2. Soften cream cheese and mush together with crushed Oreos (I use plastic gloves)
3. Make Oreo "meatballs" and refrigerate for 10 minutes
4. Dip "meatballs" in melted chocolate and refrigerate
5. Melt white chocolate and drizzle over top. Place on platter and intersperse with red cherry candies for a striking effect.