Welcome to my kitchen! Here is a yummy little treat for you this fall season.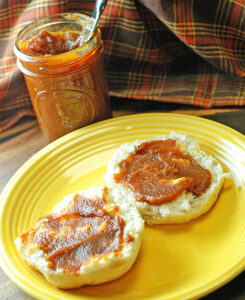 Pumpkin Butter
Watch my how-to clip below. 
Ingredients:
2 whole pie pumpkins cooked down and pureed OR 3 cans of pumpkin (15oz each)
2 cups white sugar
1 cup dark brown sugar
3/4 cup apple juice
2 tsp ground ginger
1 1/2 tsp ground nutmeg
4 tsp ground cinnamon
juice from half a lemon
Directions:
In large pot combine all ingredients. Bring to boil, stirring frequently.
Reduce heat and cover, simmering for 30 minutes, stirring frequently.
If using cooked down pumpkin, make certain it is pureed until smooth (immersion blender recommended).
Cool. Store covered in refrigerator for up to 3 weeks or freeze for up to 6 months.
Use on scones, toast, and muffins. Add to pancake batter or oatmeal for a sweet pumpkin spice version of your favorite baked goods.