Congratulations to Lori R. for winning the Historical Romance Holiday Cookie Hop grand prize $150 gift card! And to Carole for winning my individual prize!
I hope you all had fun, found some delicious recipes, learned some festive tidbits about the past, and found some new-to-you historical romance authors.
Be on the lookout for my annual Easter egg hunt hop in the spring!
May your holidays be bright and your hearths be warm
Heather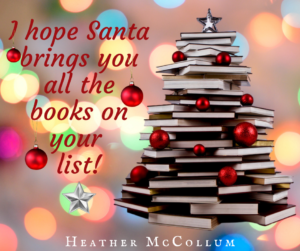 Welcome to McCollum Castle!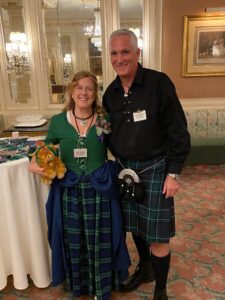 I am Heather McCollum, USA Today Bestselling author of 16th and 17th century Scottish romances full of adventure and intrigue, sprinkled with humor, history, and spice. Brawny Highlanders and feisty heroines are my favorite characters!
I am also a mom of three kids, dog-mom of one rescued geriatric golden retriever, kitten-grandmom of a Calico, and wife of one 6 foot 4 inch Highlander. When I'm not trying to help my kids make it through the day, baking things I see on The Great British Baking Show, or writing, I'm usually educating women on ovarian cancer (I'm an 11-year survivor). I love kilted heroes, dragonflies, watching birds, chai lattes, and eating buttered air-popped popcorn for dinner on Friday nights.
While you're here, feel free to roam around in the "rooms". Books are in the library, recipes are in the kitchen, ovarian cancer information in the apothecary. There is a secret stairway in the bedroom, although it is password protected and available only to my monthly newsletter subscribers. 
If you subscribe to my newsletter, you can get a FREE copy of The Beast of Aros Castle! Then if you love it, you can remain subscribed to stay up-to-date on my sales, new releases, writing projects, and crazy writer life. Otherwise, you can unsubscribe at any time. 
Just click the book cover or big "Click Here" down below to sign up!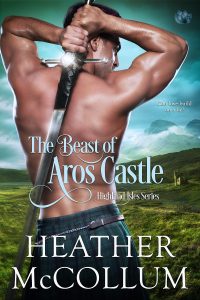 Ava Sutton is on the run from a dangerous man and makes her way safely to Scotland. Masquerading as a titled, English lady, she must convince the darkly handsome chief of the Macleans of Aros to wed her before she is tracked down.
Tor Maclean, the new chief of Aros Castle, has sworn off marriage. Despite his efforts to scare away the Englishwoman his father arranged for him to wed, Tor is nonetheless drawn to her passion and beauty. But he doesn't know if he can forgive the untruths that have come to light for a chance at a once in a lifetime love…
Enjoy your fall! Heather