Welcome

Welcome to the Historical Romance Trick-or-Treat Hop & McCollum Castle!
Just like all castles, there are doors that lead to mysterious places. Choose 1 door (or all 3) by clicking on it to see where you go. You might find a trick, or a treat, or SUDDEN DEATH!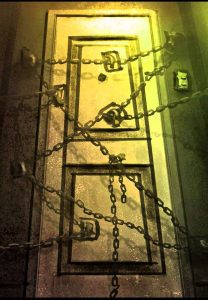 Thank you so much for stopping on the hop! Sign up for my newsletter while you're here to be the first to learn about my upcoming releases, giveaways, sales, and crazy author life. Sign up is below on the right.
Don't forget to hop to the next author on the Trick-or-Treat Halloween Hop. When you collect all 30 pieces of candy, e-mail the list of authors with their candies to me at Heather@HeatherMcCollum.com . Put "Historical Romance is Sweet" in the subject line. I will randomly choose a winner from the entries on November 1st. You could win $150 gift card!
Here is the list: 
| | |
| --- | --- |
| Alanna Lucas | |
| Amalie Howard | |
| Anna St. Claire | |
| Ava Stone | |
| Beth Williamson | |
| Collette Cameron | |
| Deb Marlowe | |
| Diana Lloyd | |
| E. Elizabeth Watson | |
| Elizabeth Essex | |
| Elizabeth Langston | |
| Heather McCollum | |
| Jane Charles | |
| Jenna Jaxon | |
| Jennifer Bray-Weber | |
| Jennifer Siddoway | |
| Jessica Clements | |
| Katherine Bone | |
| Kathleen Bittner Roth | |
| Kelly Anne Blount | |
| Lily Baldwin | |
| Lori Ann Bailey | |
| Lynn Winchester | |
| Maddison Michaels | |
| Madeline Martin | |
| Michelle McLean | |
| Nicole Locke | |
| Samantha Grace | |
| Tara Kingston | |
| Tina Gabrielle | |

FREE Book Alert!
For the month of October, the first book in my Highland Isles series, THE BEAST OF AROS CASTLE, is FREE on all digital platforms. Download and enjoy the beast! (Just click on the image to go to my library to download from any retailer)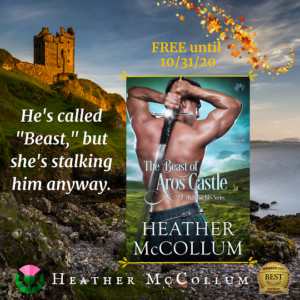 Psst! The Highland Isles series takes place in the same world as my next new series (starting 10/19), but twenty years later. So you can see how some of the characters are doing two decades after they fall in love!
Thank you for stopping into McCollum Castle!
While you are visiting, feel free to explore the different "rooms" to find historical tidbits and fun recipes. My books, with links, are shelved in the library. And to stay up-to-date on my book releases, author  adventures, and real-life ponderings, please subscribe to my newsletter (form below). 

My new book is out! THE HIGHLANDER'S UNEXPECTED PROPOSAL is the first book in a new series The Brothers of Wolf Isle, about five brothers trying to rebuild their clan and ancestral isle off the coast of Scotland.
A lass begging to marry him might top the list of "oddest things to happen," but Chief Adam Macquarie is desperate. And no matter how much he hates to do it, he's not above lying to get what he wants. Starting with the fact that he just omitted the truth about the situation back at his home—where there are no women and only a handful of other people. Because he has a secret need for a wife himself, one she won't be too happy about when she finds out.
Lark Montgomerie is thrilled the brawny chief agrees to save her from her drunken father's machinations of wedding her off to the first fool that agrees. He's easy on the eyes and no one can be worse than her current options. Now a new life awaits her, on an exciting Scottish isle no less, and nothing will dampen her spirits. That is, until she arrives in her new homeland and realizes more than a few things are amiss…
Have a lovely fall! 
Heather